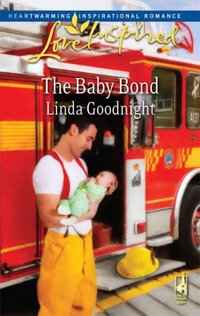 Purchase
Steeple Hill Love Inspired
May 2009
On Sale: May 1, 2009
Featuring: Nic Carano; Cassidy Willis
224 pages
ISBN: 0373875282
EAN: 9780373875283
Mass Market Paperback
Add to Wish List

Firefighter Nic Carano relishes his bachelor lifestyle. Then he loses his heart to a rescued baby. And when he meets the infant's lovely aunt—suddenly a mother—Nic starts considering love, marriage…and a baby carriage.
Yet Cassidy Willis isn't convinced. Nic's been a lifesaver with all that he has done, along with his big-hearted family and fellow firefighters, to help the new mom. But after all she's been through, could she really be happy with someone whose life is always in danger? Now it's up to Nic to show Cassidy that his bond with her and the baby is forever.
Comments
10 comments posted.
Re: The Baby Bond

I absolutely love independent book store owners, whether they be new or used books. They have a wonderful love for the written word that is unsurpassed!
(LuAnn Morgan 1:09pm June 3, 2009)
I love independent book stores! I can always find new or used books that I'm looking for!
(JoAnn White 1:23pm June 3, 2009)
Sounds like you had a blast!
(Kelli Jo Calvert 1:31pm June 3, 2009)
Conventions are fun, because there's so much going on and you get to be part of the action. I sympathize with your tootsies and look for something soft to stand on instead of cement. Indie bookstores are the best with personalized service and recommendations. I love when a handwritten review is on the shelf along with a few stars.
(Alyson Widen 2:23pm June 3, 2009)
Linda, you were very lucky. The trade show sounds very interesting. When Bob and I travel, the first thing I do is scope out the bookstores. I have to have my 'book fix'.
(Rosemary Krejsa 3:41pm June 3, 2009)
So many books and authors in one place! Sounds like a lot of fun.
(Judy Anderson 3:46pm June 3, 2009)
Even Cinderella has to rest sometime! I also make a list of bookstores when we travel. I have found some really interesting ones!
(Karin Tillotson 3:57pm June 3, 2009)
I stop in to any bookstore I can find when on vacation, just for the pleasure of it
(Diane Sadler 7:12pm June 3, 2009)
What a wonderful event. Would love to
go, but don't see it happening any
time soon. I work in a small library.
Wish I could convince them this would
be a worth while expense. Won't
happen, we don't have enough money
for books.
Am glad you enjoyed it. Good luck
with your next book. I might see you
at one of the future BEAs.
(Patricia Barraclough 11:07pm June 3, 2009)
Looking forward to going to BEA's event one day.. Maybe next year. I am always looking at books.. Keep plenty on hand for my online used and new bookstore... I have you on my summer list of reads thanks for a great blog. I was trying to figure out how much money I would need to have on hand when I get to go to BEA and you mentioned the books are free.. Have never heard that before.. I heard the proceds got to a cherity so I thought that was the books sales...
thanks for your blog
(Dona West 1:06pm June 28, 2009)
Registered users may leave comments.
Log in or register now!