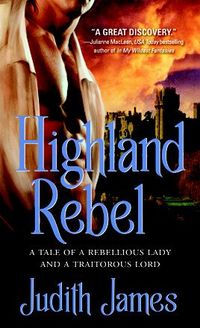 Purchase
A Tale Of A Rebellious Lady And A Traitorous Lord
Sourcebooks Casablanca
September 2009
On Sale: September 1, 2009
Featuring: Caterine Drummond; Jamie Sinclair
480 pages
ISBN: 1402224338
EAN: 9781402224331
Paperback
Add to Wish List

Set in a dangerous time of religious and political upheaval and civil war, HIGHLAND REBEL tells the story of Catherine Drummond and Jamie Sinclair, two proud and lonely outcasts whose struggle for acceptance and survival draws them together in a partnership based on mutual interest that will transform them both. In so doing it transports the reader to Ireland, the Scottish Highlands, the court of King James II, and the coffee houses, backstreets and taverns of seventeenth century London, while chronicling the brief reign of England's last Stuart king.
Born in the waning days of Cromwell's England, despised as a bastard by his Puritan father, and abandoned by his mother, James Sinclair has learned from an early age to fend for himself. Charming, dangerous, and decidedly amoral, his quick wit, good looks and military prowess have served him well in the courts of two Stuart Kings, the grudgingly Protestant Charles II and the openly Catholic King James. Adventurer, courtier, mercenary and spy, he's a master of disguise who can transform from aristocrat to beggar and disappear in any crowd. Sent to mind a troop of foreign mercenaries, he looks forward to completing his mission and collecting his reward, and when an inconvenient spark of gallantry and his own perverse humor cause him to marry a maid captured on the battlefield he intends the marriage to be in name only.
Raised in the Scottish Highlands, heiress to a title, a fortune founded on the whiskey trade, and properties in Scotland and in France, Cat Drummond is far from the camp follower Jamie mistakes her for. Fiercely loyal to family, clan and king, she's born to rule, trained on the field of battle and at the court of Versailles, and equally comfortable in men's breeches or a gown. Disguised as beggars on the streets of London, or glittering amongst the courtiers of Whitehall Palace, Catherine and Jamie will join forces in an age where treachery and adultery are the fashion, and cynicism, cruelty and barbed wit are the qualities most admired. But in a world where family, creed, and princes can't be trusted, and faith fuels intolerance, hatred, and war, they'll soon find themselves on opposite sides of a growing conflict that will force them to question everything they know, and test the bounds of friendship, loyalty and love.
Comments
45 comments posted.
Re: Highland Rebel

sounds great!
(Raelena Pavey 11:50am September 1, 2009)
Dear Judith James: Thanks for your thought-provoking article.

This altered state sounds parallel to the "battle frenzy" of warriors and soldiers. I wonder if anyone has researched it and posted the results on the Web.

I'd google it myself, only I'm not sure which term I should be looking for. Does anybody?

The whole process of creation is a fascinating topic. I wish there were more articles like yours, attempts to explore and explain this process, on websites for readers and writers.

Perhaps the very fact that it's so subjective, elusive, and hard to describe makes it a challenge to write about. And that makes articles like yours all the more appreciated!

Sincerely,

Mary Anne Landers
www.facebook.com/maryannelanders
maryannelanders@centurytel.net
(Mary Anne Landers 1:22am September 3, 2009)
Dear Judith
I know just what your talking about.I love to find a book that captures all of the senses and can carry me from page to page.The end comes way too soon but the story will stay with you forever.Few books have done that but the ones that have I read many times and keep them as treasures.I have a feeling Highland Rebel will be one of those rare jewels.
(Debra McDonald 3:57am September 3, 2009)
I have Been lost Between the pages of abook like that when reading and it seems the book goes buy so much faster then.them are the best books when you can get lost in them.I have done it but right now i can't renember witch ones thay were sorry.
sasluvbooks@yahoo.com
(Stacey Smith 4:37am September 3, 2009)
There are some stories that just suck you in and the pages just fly by and you don't even realize how much time has gone by.
(Maureen Emmons 6:21am September 3, 2009)
Judith your somments about a muse are all too true. I have read scientists are trying to access why not all the brain is utilized and what can unlock it. You sound like the type of canidate that they study watching brain scans to find what triggers these dormide brain cells and what slams the door again after a glimpse.
(Susan Lathen 9:09am September 3, 2009)
I can relate to being the outcast
(John Caldwell 10:21am September 3, 2009)
I do enjoy reading of my Irish heritage
(Kathryn Phillips 10:26am September 3, 2009)
I often get lost in another world when reading historical fiction or fantasy. A good example for me is the Harry Potter series - those books just took me away to a magical place & I just couldn't put them down when I was reading them.
(Cheryl Snyder 10:43am September 3, 2009)
Welcome to you all and thanks for stopping by and commenting,

Thanks for the kind words Raelena,

Mary Anne I think battle frenzy or battle lust would be a good place to start. You are right about it being elusive and hard to define and I'm guessing everyone who experiences it might describe it a different way.

Debra and Stacy, Maureen and Cheryl; it's amazing isn't it? You can look up at the clock and hours have passed in what feels like minutes. I'm always sad to leave when those stories come to an end. I too get lost in historicals and fantasy novels. It's like time travelling or discovering a hidden world.

Susan it's funny but as I was writing this article I was wondering the same thing-if a different part of the brain would light up on an EEG

John I feel like an outcast when that warm fuzzy feeling is rudely yanked away. I tend to really like characters who are outcasts in someway in my books.
Kathryn, one thing that surprised me while researching Highland Rebel was how the Highlanders were much closer to the Gaelic Irish than the lowland Scots in culture, language and dress
(Judith James 11:04am September 3, 2009)
I thoroughly enjoy novels about foreign countries...especially Ireland, England and Scotland!
(Paula Staton 12:32pm September 3, 2009)
I think I have always enjoyed reading so much because it has been my escape into another world.
(Vikki Parman 1:02pm September 3, 2009)
This one sounds like fun!
Thanks!
Marjorie
(Marjorie Carmony 1:19pm September 3, 2009)
Thank you for your post. I get thoroughly entranced when I'm thinking about something I had read earlier, or when I'm in the middle of a wonderful book. Life and people just swirl about me and I seem like worlds away. Quite an escape isn't it.
(Armenia Fox 1:30pm September 3, 2009)
Hello Judith,

Thank you for being here today. A recent book I read swept me away to Louisiana. It was by Deborah LeBlanc called Water Witch. It is a wonderful book I will never forget. Have a great day.
(Roberta Harwell 1:39pm September 3, 2009)
Hi Judith! Historical romances are the best escape and yet they provoke real, deep feelings. Laura Lee Guhrke's And Then He Kissed Her and Secret Desires of a Gentlemen have really simple plots but there's something in her writing that makes me so emotional... her novels -- these two in particular -- make me teary eyed... and it's wonderful.
(V Young 1:48pm September 3, 2009)
I don't always get swept away. Sometimes, I am conscious of the fact that I'm reading. Then there are those times when I'm totally swept away and begrudge intrusions - like having to eat, go to bed, that sort of thing. This just happened for me recently with a book I finished this morning, an arc of According to Jane, by Marilyn Brant. I am also finding it in Perfect Chemistry by Simone Elkeles. So far, this has been a good reading week for me!
(Margay Roberge 1:54pm September 3, 2009)
Instead of calling it my muse I call it being in the 'zone'. I can read more qiuickly and work more quickly when I am in the zone. Out of the zone I have to concentrate a bit harder to fight the outer distractions of life to get things done.
(Gigi Hicks 2:08pm September 3, 2009)
I read many different kinds of books, the ones I usually get lost in, are ones where I become the character. Becoming that character in my mind is the best escape. Perfect and Paradise by Judith McKnight are very good escape books. Your book Broken wing was another story I lost myself in. Highland Rebel sounds like another, I can't wait to read it.
(Theresa Buckholtz 2:14pm September 3, 2009)
I love me some highlanders and I would love to read this book. It sounds awesome.
(Gail Hurt 2:31pm September 3, 2009)
Paula, you are in good company, and may I say, they are all featured in Highland Rebel

Vikki I am the same. I love a good movie, but nothing can take the place of a good book

Thanks Marjorie and Gail. If you like romance and adventure in the Highlands, I think you'll love Highland Rebel

Armenia it can't be beat. For me a good read is like a mini vacation (without the cost, hassles and line-up at the airport)

Roberta thanks for reminding me. I have heard some great things about that book. I'm adding it to my TBR list.

Hi V! Well when a book moves you to tears you know it's an involving and powerful read. One of the many things I'm enjoying on this tour is finding new books to add to my TBR list. Thanks for sharing.

Oh Margay I know what you mean and I hate it. Sometimes the story just isn't grabbing me and sometimes it's me. There's just too much on my mind to let me relax and settle in and do the story justice.

Hi Gigi, being in the zone works beautifully. I think athletes go there as well when everything's humming just right.

Theresa thanks for the kind words, and for another recommendation for the reading list. The first book I remember being a character in was the Lion the Witch and the Wardrobe. I eve sat in the cloths closet while I read part of it...just in case.
(Judith James 2:53pm September 3, 2009)
I have read books that capture you and won't let you go until the story is done. Authors that have had that effect on me that I can think of off the top of my head are CL Wilson, Julie Garwood's historicals, Shannon Hale and Nalini Singh.
(Cherie Japp 2:53pm September 3, 2009)
Some books you can read and you're like"OK" and then there are the other ones that pull you in and don't let go until long after your finished.
(Elizabeth Parzino 2:58pm September 3, 2009)
I call it being in the zone. When it happens, it is the most satisfying feeling in the world.
(Phyllis Lamken 3:19pm September 3, 2009)
I occaisionally feel that 'buzz' when mowing the lawan-something so pleasurable to me,it can be done without thought!
(Dawn Raymer 3:44pm September 3, 2009)
I have often felt the way you
mentioned when reading a book
that has really grabbed me-as
if I had fallen into the
pages. I am seeing the cloudy
sky and feel the wind whipping
my hair about my face. At
those times I don't feel that
I am reading a book but living
it. It is a most satisfying
feeling.
(Lisa Richards 3:47pm September 3, 2009)
nothing like a good historical romance to make everything go away...
(Sandy Haber 4:01pm September 3, 2009)
I think I've always liked reading so much because it takes me to other places. Allows me to see in my mind what I won't see in person. Experience things I will never do.
(Linda Henderson 4:08pm September 3, 2009)
i enjoy reading about my Celtic heritage I so miss my homeland I am sure highland Rebel will take me back to my minds eye....I will add this to my list.
(Ann w 4:29pm September 3, 2009)
Cherie thanks for your comments. I've heard great things about Branded by Fire.

Elizabeth I think that's a very good point, the ones that pull you in tend to linger with you after.

Phyllis and Dawn, zone or buzz, it's kind of hypnotic or trance like isn't it? But in the one you are meditating and in the other you have gone to another world.

Lisa you describe it perfectly! I want to read what you're reading.

Couldn't agree more, Sandy.

Linda I love fantasy novels for just that reason.

Ann- I know it took me there, I hope it does the same for you.
(Judith James 5:25pm September 3, 2009)
I expect to be lost in another world when I read. I immerse myself into the story. If I can't find myself being drawn in by the end of the first page then I know it will not happen for that particular book. That does not mean it's a total loss just that I am outside reading in. One of my favorite books to be lost in is a classic: Gone With The Wind.
(Mary Preston 6:24pm September 3, 2009)
Judith, I've never read The lion,the witch and the wardrobe, though I've seen the movies a few times. That story reminds me of when I was much younger, I loved the little house series so much. I put pillows under my blanket at night and took a flashlight to my closet , so I could continue reading while everyone was sleeping. I laugh at some of the drastic measures I took all for the love of a good book.
(Theresa Buckholtz 7:20pm September 3, 2009)
I get lost in a book that is full of imagination and suspense and just plain good story; I see myself as the heroine and try to imagine what I would do in her shoes. And if by chance I don't get tat feeling I'm probably not enjoying the book.
(Diane Sadler 7:22pm September 3, 2009)
I love your article, and totally agree! I tried Astral Projection, but fell asleep. When My Muse visits, I am in another world, another time, and it didn't cost a thing! If only I can write it as vividly as I feel it...
(Deb Carr 7:40pm September 3, 2009)
What an interesting perspective. I never looked at it in the way before, but now that I have I see the truth in what you are saying. Congratulations on the release of 'Highland Rebel'.
(Rosemary Krejsa 8:45pm September 3, 2009)
Thanks for the interesting column and your book contest.
(G S Moch 9:23pm September 3, 2009)
Once had a teacher that told me I lived in a fantasy world becae of the books I was reading. Didn't faze me at all. Still reading the same type of books 40 years later!
(Teresa Ward 10:01pm September 3, 2009)
Books have always been a pure form of
escapism when reality is less than
perfect.
(Sue Ahn 10:44pm September 3, 2009)
Anything to do with Scotland, brogues, kilts and those furry purse things has my vote for a good read. I've been getting lost in books for years.
(Alyson Widen 11:57pm September 3, 2009)
I always marvel at how an author's, or probably any creative, mind is different from my own. Even my mother, who was definitely more creative than I, had a whole different way of thinking than I do. It sounds so fascinating--a whole story in itself.
(Sigrun Schulz 12:38pm September 4, 2009)
Very intriguing
(Bridget Hopper 1:13am September 4, 2009)
Mary that's a great expression, on the outside reading in!

Theresa yes! Is it like hiding in the closet to eat cookie? There are far worse addictions.

Dianne I do that in horror movies. I'm one of the ones shouting NO!! Don't open that door!

Deb, it's wonderful isn't it. It would be great if they could bottle it, though we'd all be walking and driving in a trance. Maybe better to be firmly ensconced in a chair at home.

Thanks for the kind words Rosemary. I'm pretty excited about it

GS thank you for stopping by, and good luck with the contest!

Teresa! I've heard that before too. Looks like it didn't do us any harm :)

Seung, you are right, and not all escapes are so harmless or occasionally teach you something new.

Alyson, it's my understanding that those sporrans often carried a small flask of whisky among other necessities. I hope you get lost in Highland Rebel

Sigrun, I don't know if it's different or more like a muscle that grows as you use it. I do know my brain just cringes when asked to do any math other than add subtract and multiply.

Bridget, I'm glad you think so and thanks for stopping by

I'd like to thank Fresh Fiction for hosting me and all of you for the interesting comments, observations and recommendations. I had a great time being here, I wish you all the best, and for those who enjoy history adventure and romance, I hope you have a similar experience when you read Broken Wing :)
(Judith James 8:43am September 4, 2009)
OOOOPS! I do hope you have a similar expereince if you read Broken Wing, but if it's the Highlands and adventure and romance that calls to you, that you'll find in the pages of Highland Rebel :)
(Judith James 8:46am September 4, 2009)
What a great description of how you get caught up and can so vividly see/hear/feel the scenes as you're writing them. Thanks to great writers such as yourself, readers can escape much the same way. My husband, who only reads the newspaper :) - can't understand how I can become so completely engrossed in a book, nothing at all like passively watching tv. I love it when a writer can TRANSPORT me with only words; it is an art and truely a gift. Thank you.
(LaRonda Atchison 12:54pm September 4, 2009)
I think we are blessed to have so many great authors that are such great stoy tellers that you do enter the story - cheer with their achievements and cry at their sorrows.
I wish I had that ability but as I don't I just try to read as many books as I can.
(Barbara Hanson 1:06pm September 4, 2009)
Registered users may leave comments.
Log in or register now!