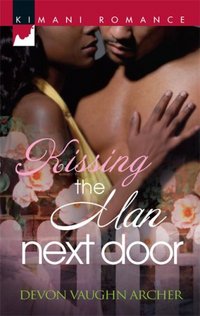 Purchase
Kimani Press Kimani Romance
May 2009
On Sale: May 1, 2009
Featuring: Mackenzie Reese; Ian Kelly
224 pages
ISBN: 037386115X
EAN: 9780373861156
Mass Market Paperback
Add to Wish List

Romance Series | Multicultural African-American | Multicultural Romance
Hairstylist Mackenzie Reese is feeling fabulous and free! Her teenage son has gone cross-country to live with her ex, so Mackenzie's got a new lease on life—no men, no kids, no problem! Then sexy disc jockey Ian Kelly moves in next door...and it's more than just the barbecue that heats up.
Ian moved to Vermont for a job and his own type of freedom. But he hadn't counted on a beautiful, sassy neighbor to stir his deep, delicious longings. And when Ian finally crosses Mackenzie's threshold...it's more than just sugar he wants.
But unexpected drama threatens to rain on this block party. (Doesn't it always?) No matter. All Ian can say is there goes the neighborhood...and his heart.
Comments
11 comments posted.
Sorry, the person next door is a little too close for me. I grew up in a small town where everyone knew everyone's business. That's why I don't live in a small town now - and what could be smaller than next door???
(Karin Tillotson 12:50pm May 18, 2009)
It was troublesome enough to date my brother's friend who drove back and forth from St. Louis. When I broke up with him, the treads left from the tire marks announced his displeasure. It was hard to look him in the eye again and he went to my church, too. All in all, a little too close for comfort to date someone so familiar.
(Alyson Widen 1:37pm May 18, 2009)
I've never had a neighbor who fit that bill, so no, I've not thought about it myself. However, my son's girlfriend did that after their baby was born. Needless to say, they aren't together today!
(LuAnn Morgan 1:39pm May 18, 2009)
I have never in my life had a neighbor worth thinking about having a relationship with! But it would be hard to still live next to them if it ended - it would be hard to see them with someone else.
(Kelli Jo Calvert 1:51pm May 18, 2009)
I never had a romance with a neighbor but I did meet my husband at work. We will be married for 45 years in December.
(Judy Anderson 2:59pm May 18, 2009)
I have never had a neighbor who was remotely tempting. Maybe I just haven't lived in the right neighborhood. I do agree with Kelli's comment that it would be difficult when the relationship ended, to live so close.
(Robin McKay 6:18pm May 18, 2009)
my neighbors on both sides were retired, so the chance of my falling for one of them was pretty slim; but I did meet my husband at a country western bar and we have been together since
(Diane Sadler 7:54pm May 18, 2009)
I went out with a neighbor a few times. It took two dates and then I realized he was not the man for me, so I didn't waste my time nor his by going out with him again.
(Shelia Goss 8:17pm May 18, 2009)
I've never had any interest in any neighbor I've ever had - it's too close to home & I wouldn't ever want to feel uncomfortable in my own neighborhood as a result of a liaison with a neighbor.
(Cheryl Snyder 9:48pm May 18, 2009)
Never had a romance with a neighbor.
It seems like the things that could
cause real problems if it ended. If you
parted as friends, it might be a little
uncomfortable as you both move on
with your lives and new loves. It it
ended poorly, I would think one would
have to move. There would be too
many things that could cause
problems with relationships that
followed.
(Patricia Barraclough 11:13pm May 18, 2009)
Next door is too close for me! But I can see how it might happen, anyway thank you for the opportunity to win.
(JoAnn White 10:13am May 19, 2009)
Registered users may leave comments.
Log in or register now!