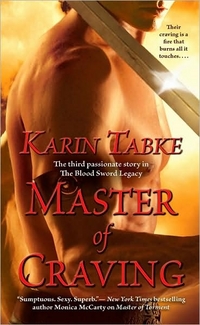 Purchase
A princess's maidenhood is put in danger when she is captured by an enemy warrior.
Blood Sword Legacy, #3
Pocket Star
June 2009
On Sale: May 26, 2009
Featuring: Stefan de Valrey; Arianrhod
352 pages
ISBN: 1439102570
EAN: 9781439102572
Mass Market Paperback
Add to Wish List

Romance Historical | Romance Erotica Sensual
Their craving is a fire that burns all it touches...
Eight knights have been bound by a brotherhood forged in hell, and each is destined to find only one woman who will bear him sons. Until he finds that woman, he is cursed to battle and ravage the land. One such Blood Sword knight, Stefan de Valrey, is fighting Wales on behalf of King William, when he is wounded and left alone on the battlefield. Despite his injuries, Stefan vows to liberate his captured comrades.
When Stefan comes across the beautiful Welsh princess Arianrhod, he decides to hold her hostage. The plan is to exchange her for his fellow Blood Swords who have been captured by the Welsh army...as long as Arian remains as pure as when he met her.
Arian finds it hard to muster the courage to escape when she has never before experienced the deep, soul-changing desire that Stefan arouses with a mere glance. But more than her virtue is at stake. Their craving for each other may prove to be the spark that sets an entire region on fire--with consequences that will be felt for thousands of years.
Comments
28 comments posted.
Karin, Happy Release Day! Love this series and need to get the newest later this week.
(Pamela Pellini 12:40pm May 27, 2009)
Congrats on the new release! I walk.
(Amy Smith 11:10am May 27, 2009)
By changing your perception, walking helps get the mind around problems and allows a chance for peace to come through. Go ahead and walk.
(Alyson Widen 12:23pm May 27, 2009)
I usually walk it out! When I am full of energy I can't read or watch TV. I already multi-task and the extra buzz doesn't help :>)
ps I like the way you spell your name :>)
(Karin Tillotson 12:34pm May 27, 2009)
Congrats on the new release, Karin! I have heard nothing but great things about your Blood Sword Legacy series. I have read the blurbs of each, and all sound wonderfully sexy and exciting. I love historical romances, and there are few things sexier than a knight!
(Cheryl Castings 1:00pm May 27, 2009)
Congratulatons on the new release Karin. When I have extra energy I do some gardening or get a project around the house done that I've been putting off.
(Maureen Emmons 1:03pm May 27, 2009)
I squirm a lot because it's usually when I can't do anything about it that I have extra energy to burn - I'm definitely a knee bouncer!
(Kelli Jo Calvert 1:37pm May 27, 2009)
Grrr, my computer is being very slow today!

Thanks everyone for stopping by. I'll be back in bit to chat!
(Karin Tabke 1:51pm May 27, 2009)
Congratulations on the new book. I have a terrible summer cold so I don't know too much about energy right now!
(Judy Anderson 2:04pm May 27, 2009)
I can't wait to get to the store and to buy Master of Craving! I don't have too much energy today -- I think it's the rain. When I do, I walk.
(Edie Ramer 2:22pm May 27, 2009)
Congratulations on the release and YEAH for HEA romance! Hmm energy to burn? Walking with an Audible book on mp3!!
(Martha Eskuchen 4:12pm May 27, 2009)
I love reading romance novels, and the snark doesn't phaze me anymore. Congrats Karin on your new release, definitely worth a bit of dancing around. I would love to start this series.
(Cathy MacDonald 4:41pm May 27, 2009)
I can always play with my grandkids. That will wear a person out fast!
(LuAnn Morgan 6:04pm May 27, 2009)
Ack, for some reason I have a hard
time logging in from aol. so i had to
wrestle my mac book away from my
son who thinks its his!

i like to walk off excess energy myself.
and if i really need to get going i take
both of my big dogs. that's always an
adventure.
(Karin Tabke 6:19pm May 27, 2009)
congratulations on the book.
Me I clean out, starting usually in the kitchen and working my way to the bedroom closet. Works for me.
(Diane Sadler 6:49pm May 27, 2009)
When I have extra energy I tend to talk a lot, or shop and talk a lot. Never really anything productive, but that's overrated right?
Anyways, congrats on Craving! I have been waiting for this one for a long time :)
(Carrie Divine 7:50pm May 27, 2009)
Congrats on the new release! Thanks for the opportunity to win a book. Best wishes!
(JoAnn White 8:04pm May 27, 2009)
Happy release day Karin!!! I'd love to be in the contest! Thanks. Oh for me to burn off the energy is to tackle the kitchen! Or go organizing papers! There's always some here to do!!

Keep celebrating this release!
(Cathie Morton 9:21pm May 27, 2009)
Howdy Karen! :) Been seein' ya everywhere in the blog world...The new book looks fabulous.


With excess energy, I always either do dishes or walk my dog. :) Both are good for me in the long run and get chores done!! :D
(Rachael Grime 11:06pm May 27, 2009)
Romance is still selling well. Your sword
series sounds good. I'll have to look for
it.
(Patricia Barraclough 11:55pm May 27, 2009)
Well, I walked both dogs, cleaned my
office and stuffed a bunch of promo
envelopes. I'm officially pooped.

Now I'm not sure if I pick a winner or
if one of the FF goils is going to.

Stand by!

But check back. And thank you to
everyone who stopped by and said
hello and offered their congrats. I
really appreciate all of the support!

K*
(Karin Tabke 2:55am May 28, 2009)
Hi Karin. Congratulations on the release of Master of Craving. Love the cover.
I usually catch up on housework I have been putting of when I have energy to burn.
(Crystal Broyles 9:12am May 28, 2009)
Congratulations on your new
book! I loved Good Girl Gone
Bad, and look forward to
reading more of your books!
(Erin Thompson 10:47am May 28, 2009)
I love swords! My husband and I actually
collect them. I would probably fall in
love with your books. I'll have to check
them out.
(Bridget Hopper 1:17pm May 28, 2009)
When I have energy to burn I do chores
around the house and small fix-it jobs.
(Sue Ahn 10:59pm May 28, 2009)
As I've said elsewhere, a romance novel certainly beats reading any of the so-called classics about the "human condition." After all, what can be more human than romance?
(Sigrun Schulz 4:17am May 29, 2009)

(Sigrun Schulz 4:24am May 29, 2009)
As for energy to burn: I don't have any. lol Unfortunately, I can hardly do my most necessary chores.
Sorry about the former entries. Things seemed to be "frozen" and so I tried the "Post..." key.
(Sigrun Schulz 4:27am May 29, 2009)
Registered users may leave comments.
Log in or register now!