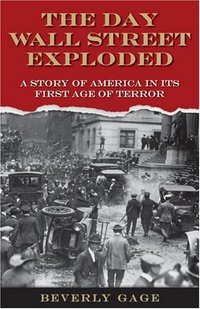 Purchase
The Day Wall Street Exploded
Beverly Gage
Oxford University Press
February 2009
On Sale: January 28, 2009
416 pages
ISBN: 019514824X
EAN: 9780195148244
Hardcover
Add to Wish List

Just after noon on September 16, 1920, as hundreds of workers poured onto Wall Street for their lunchtime break, a horse-drawn cart packed with dynamite exploded in a spray of metal and fire, turning the busiest corner of the financial center into a war zone. Thirty-nine people died and hundreds more lay wounded, making the Wall Street explosion the worst terrorist attack to that point in U.S. history.
In The Day Wall Street Exploded, Beverly Gage tells the story of that once infamous but now largely forgotten event. Based on thousands of pages of Bureau of Investigation reports, this historical detective saga traces the four-year hunt for the perpetrators, a worldwide effort that spread as far as Italy and the new Soviet nation. It also takes readers back into the decades-long but little-known history of homegrown terrorism that shaped American society a century ago.
The book delves into the lives of victims, suspects, and investigators: world banking power J.P. Morgan, Jr.; labor radical "Big Bill" Haywood; anarchist firebrands Emma Goldman and Luigi Galleani; "America's Sherlock Holmes," William J. Burns; even a young J. Edgar Hoover. It grapples as well with some of the most controversial events of its day, including the rise of the Bureau of Investigation, the federal campaign against immigrant "terrorists," the grassroots effort to define and protect civil liberties, and the establishment of anti-communism as the sine qua non of American politics.
Many Americans saw the destruction of the World Trade Center as the first major terrorist attack on American soil, an act of evil without precedent. The Day Wall Street Exploded reminds us that terror, too, has a history.

Media Buzz
PBS News Hour - October 17, 2011
NewsHour with Jim Lehrer - March 17, 2009

Comments
No comments posted.

Registered users may leave comments.
Log in or register now!