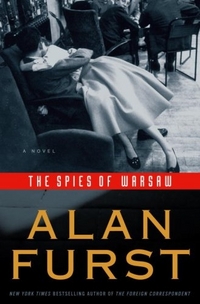 Purchase
Random House
June 2008
On Sale: June 3, 2008
288 pages
ISBN: 1400066026
EAN: 9781400066025
Hardcover
Add to Wish List

An autumn evening in 1937. A German engineer arrives at the Warsaw railway station. Tonight, he will be with his Polish mistress; tomorrow, at a workers' bar in the city's factory district, he will meet with the military attaché from the French embassy. Information will be exchanged for money. So begins The Spies of Warsaw, the brilliant new novel by Alan Furst, lauded by The New York Times as "America's preeminent spy novelist."
War is coming to Europe. French and German intelligence operatives are locked in a life-and-death struggle on the espionage battlefield. At the French embassy, the new military attaché, Colonel Jean-Francois Mercier, a decorated hero of the 1914 war, is drawn into a world of abduction, betrayal, and intrigue in the diplomatic salons and back alleys of Warsaw. At the same time, the handsome aristocrat finds himself in a passionate love affair with a Parisian woman of Polish heritage, a lawyer for the League of Nations.
Colonel Mercier must work in the shadows, amid an extraordinary cast of venal and dangerous characters– Colonel Anton Vyborg of Polish military intelligence; the mysterious and sophisticated Dr. Lapp, senior German Abwehr officer in Warsaw; Malka and Viktor Rozen, at work for the Russian secret service; and Mercier's brutal and vindictive opponent, Major August Voss of SS counterintelligence. And there are many more, some known to Mercier as spies, some never to be revealed.
The Houston Chronicle has described Furst as "the greatest living writer of espionage fiction." The Spies of Warsaw is his finest novel to date–the history precise, the writing evocative and powerful, more a novel about spies than a spy novel, exciting, atmospheric, erotic, and impossible to put down.
"As close to heaven as popular fiction can get." –Los Angeles Times, about The Foreign Correspondent
"What gleams on the surface in Furst's books is his vivid, precise evocation of mood, time, place, a letter-perfect re- creation of the quotidian details of World War II Europe that wraps around us like the rich fug of a wartime railway station." –Time
"A rich, deeply moving novel of suspense that is equal parts espionage thriller, European history and love story." –Herbert Mitgang, The New York Times, about Dark Star
"Some books you read. Others you live. They seep into your dreams and haunt your waking hours until eventually they seem the stuff of memory and experience. Such are the novels of Alan Furst, who uses the shadowy world of espionage to illuminate history and politics with immediacy." –Nancy Pate, Orlando Sentinel

Media Buzz
Late Late Show - July 15, 2009
Late Late Show - June 26, 2009
All Things Considered - July 4, 2008

Comments
No comments posted.

Registered users may leave comments.
Log in or register now!