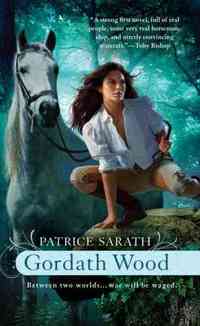 Purchase
Ace
July 2008
On Sale: June 24, 2008
336 pages
ISBN: 0441016413
EAN: 9780441016419
Paperback
Add to Wish List

Worlds collide in Gordath Wood.

Something strange is happening in Gordath Wood, the old woods surrounding a training stable called Hunter's Chase. The police think Lynn Romano and Kate Mossland have been murdered, but what actually occurred is much stranger. They've gone through a hole between worlds, into a medieval society at war. In a world that doesn't ordinarily have use for women, the danger is great—good thing Lynn and Kate aren't your ordinary women.
Comments
26 comments posted.
Re: Gordath Wood

Both sets of books look great. I'd enjoy reading any of them but Scott Lynch's books caught my eye!
(Cheryl Snyder 11:22am August 22, 2009)
No you are not alone Sara, I have the same problem. It's why I resist reading while writing, because if I get sucked in, then I am reading and not writing. But I will have to add these series to my want to read list.
(Heather Long 11:25am August 22, 2009)
Thank you for the entry.

I would love to read them all. Though I agree Scott Lynchs books look intriguing.

freda.mans@sympatico.ca
(Freda Mans-Labianca 11:26am August 22, 2009)
You are definitely not crazy, I think we all in some form or another fill in the blanks and imagine what happens after. Scott Lynch books look interesting.
(Theresa Buckholtz 11:38am August 22, 2009)
I have never read either one of the authors but they both sound really interesting. I hate when I'm reading a good book and I have to quit to do anything else. It seems like my family has ESP they know when I pick up a book and they within a dew minutes of me starting to read.
(Sherry Strode 12:40pm August 22, 2009)
I've been known to stay up until 4 or 5 in the morning to finish a good book. I like the connected stories but I hate it when you have to wait for the next one to come out. A lot of times I will wait until I have all of them to start one. That way I can read them one right after the other. These series do sound very interesting. Would love to read them.
(Linda Henderson 12:49pm August 22, 2009)
No crazier than the rest of us! I've had characters going on in my brain long after reading their books, and also popping in ages after!

But really - wouldn't a better title for today's blog have been "Reader Interrupted, I Hate When Life Butts Into a Good Book!"

Later,

Lynn
(Lynn Rettig 1:10pm August 22, 2009)
OOOOO, Sara, you just made my "want" list that much longer! I *love* books that pull me in and make me *have* to read them. Woe to the person who interrupts me when I'm engrossed in such a book!

Besides, who cares about a little dust and the dog is very happy that I'm ignoring the fact the carpet needs sweeping.
(Kay Martinez 2:13pm August 22, 2009)
The Scott Lynch books sound very interesting. You are not crazy. I often make the mistake of reading right before bed then I spend a sleepless night laying there imagining where the plot will go next and what will happen to these characters. I would be better off just staying up all night to finish the book.
(Annetta Stolpmann 2:19pm August 22, 2009)
Nope, you're not crazy. First, I have been known to start a series at perhaps, number 4 instead of number 1. Second, I too get caught up in a series, bringing them to life in my head, ruining me for the realities that want to impinge!!
(Anne Harris 2:26pm August 22, 2009)
Since I rarely remember my dreams, I'm not to sure whether I actually dream about a book's characters and their goings-on. But I have to admit that just this week I had characters follow me into to twilight zone between reading and falling asleep. It's actually the first time in a very long time--if ever--that this has happened. (I've been reading for more than 50 years and really can't remember back to the beginning.lol)
(Sigrun Schulz 4:44pm August 22, 2009)
Yuck, forgot to proofread again and I did make mistakes. Oh, well, what else is new? Currently I just have a short attention span, I guess.
(Sigrun Schulz 4:47pm August 22, 2009)
I love reading good series those marathon reading nights lead to book hangovers in the morning but you just can't seem to put them down.
(Audra Holtwick 5:15pm August 22, 2009)
You are not alone- to me the sign of a great writer is that the characters keep living out their lives in my head. Of course, now that I am older I can't do all night reading, I simply wake up with the book pressed to my cheek. But I do find myself during the day wondering how much time I have to put up with this real world crap until I can get home, do my getting ready to read awhile ritual and get into what is more important.
(Sara Edmonds 6:59pm August 22, 2009)
Both of these fantasy books sound great and I'm sure I'll give them a try. It is always interesting to read something new. Unfortunately I am not able to do any marathon reading sessions. I use to and want to but age has caught up with me and I can't stay awake. There I am in the morning still holding the book with my finger as a bookmark. At least I didn't lose my place.
(Rosemary Krejsa 7:24pm August 22, 2009)
Both sets of books look great! I am one of the people that set up half the night reading. It my time.
(Gail Hurt 9:05pm August 22, 2009)
I do tend to relive passages from books
in my head after just finishing an intense
read. But not being a writer I don't create
new scenes for the characters to live. I
wish I could do that.
(Sue Ahn 9:36pm August 22, 2009)
I don't think you are at all crazy, but blessed with a great imagination when inspired by neat characters.
(G. Bisbjerg 10:17pm August 22, 2009)
You are not alone. I could substitute
myself in your piece, except for
reading at stop lights - there aren't
any on my way to work. Besides I
always have a book on tape going in
my car. However, if I'm not the one
driving, I'm reading. I eat with a book
open. I cook with a book open.
As far as having the characters
invading my life, glad I'm not the only
nut. While I'm reading the book, I'm
thinking about it and the characters.
When I'm done with it, they live on in
continuing adventures. With really
good books, I don't want to let them
go.
These two series sound very
interesting. Who needs sleep anyway?
(Patricia Barraclough 10:25pm August 22, 2009)
would love to win either copy. these sound great. And I hate having to wait to start back reading a good book. But oh well sometime life interferes with my hobbies so I just have to live with it.
(Pam Kinsey 11:24pm August 22, 2009)
The books look great especially since fantasy is one of my favorite genres. And I also stay up late reading if the book is good but I usually stay up until I am tired enough that I won't spend much time thinking over the book before I fall asleep.
(Rachael Haas 3:27am August 23, 2009)
that happens to me all the time I would be watching a show a night and then start thinking of the book and the nect thing you the the show is over and i dont no what went on.the book can take over me and i will have to run to the store to get all the auther books in the set.
sasluvbooks@yahoo.com
(Stacey Smith 4:12am August 23, 2009)
I just saw the entry on the other page and as I said I've never tried these authors and this is a chance to do so
(Diane Sadler 8:44am August 23, 2009)
I'm a late night reader but I've never had book characters jump from the page into my bed! Not that it wouldn't be interesting, but I usually make up my own dream fantasies with people I want to get to "know" better.
(DeeAnn Szymanski 8:28pm August 23, 2009)
Here, I thought I was the only
one who was a sneak reader. I
carry my current book in my
purse while out doing errands
and anytime I'm waiting, out
it comes. Can't wait to add
these two new authors to my
list.
(Lisa Richards 7:38am August 24, 2009)
I always have a book with me, in the bathroom, bedroom, car, will read standing in line at bank, at the stoplight, used to read witha flashlight I snuck into my room when I was a kid. Now when I travel with my husband, we will rent a room and I have to have the lights out when he goes to sleep, I always take a flash light with me so I can read without disturbing him as I don't have another room to go into. Some characters I can't get out of my head!!
(Brenda Rupp 1:22pm August 25, 2009)
Registered users may leave comments.
Log in or register now!