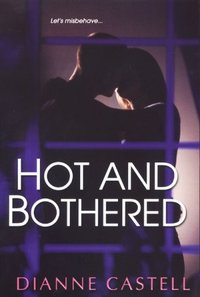 Purchase
Brava
April 2008
On Sale: March 25, 2008
Featuring: Charlotte deShawn; Griff Parish
320 pages
ISBN: 0758223595
EAN: 9780758223593
Paperback
Add to Wish List

Savannah, Georgia: city of history, mystery, and more than a few ghosts, as well as four best friends who have never fit in anywhere except with each other. But everything is about to change as an unsolved murder from decades ago draws them close--and closer still--to four sexy bachelors with secrets of their own...
Savannah When It Sizzles
In the "new" old south, pedigree and money still mean plenty...especially when you have neither. P.I. Charlotte deShawn and her friends Prissy, BrieAnna, and Bebe know all too well what it's like to be on the outside looking in, having grown up with more questions than answers about the parents they each lost at an early age. For Charlotte, enduring condescending looks and whispers only made her more determined to ignore social standing. So why should it be a problem when wealthy hotel owner Griff Parish wants to hire her to find the missing heir to his family fortune? Just because their chemistry is hotter than Georgia in August doesn't mean she can't be a pro about this. After all, they travel in completely different circles...or they did until now...
Griff's always had a thing for Charlotte, with her long red hair, big green eyes, and wild streak. Even the hefty chip on her shoulder only reminds him of how strong she is. Still, nothing's ever come of the attraction. Now, however, the temptation Charlotte represents is too close to ignore. True, Griff got himself into this fix. He could have hired a different detective agency -- but that wouldn't have served his ends. He has damn good reason to keep Charlotte deShawn close, and it has nothing to do with her keen mind or her gorgeous body. Yeah, right. Falling hard for Charlotte wasn't part of the plan, but in Savannah, what you expect is just about never what you get...
Comments
13 comments posted.
Re: Hot and Bothered

I consider myself southern too. I grew up in md. (below the Mason-Dixon line) and have lived in ohio for over 40 years now.
I also love Paula Deen and southern food. I am not Manhattan either. I love sweet tea .
(Mary Branham 8:40am April 1, 2008)
I am a Northerner, raised in Massachusetts, but my father was from Virginia and I lived there for almost a year with him, so I like to consider myself part Southerner, too.
(Margay Roberge 9:49am April 1, 2008)
I was born in PA but have lived in the
Bahamas, Florida and Arizona for most
of my life. I've lived in South Florida
for more than 30 years so I guess I'm
officially a Southern gal!
Unfortunately, South Florida is the
least Southern place in the South.
(Susan Pertierra 6:30pm April 1, 2008)
I consider myself Southern. I don't have to always be pampered but when I do I enjoy it. Love the soothing effects that southern food brings
(Cheryl Koch 6:50pm April 1, 2008)
No question about it! Southern to the core. I have lived in Southeast Georgia all my life. I'll take a sweet tea anytime or cheese grits!
(Dianne Westbrook 7:49pm April 4, 2008)
I'm a Northerner. I was born and raised in NE Pennsylvania.
(Bonnie Chaballa 11:18am April 6, 2008)
I was born in Atlanta raised in PA live in CA but consider my self a Georgia Peach.
(Noralyn Smith 1:54pm April 6, 2008)
I am southern born and bred in the deep, southwest side of Georgia just 35 miles north of Tallahasse, Florida. I can twirl a baton (I took lessons for a couple of years.)
I love the food, fried chicken, anything fried and the fresh vegetables are wonderful.
(Gigi Hicks 9:54pm April 6, 2008)
I'm southern born and bred, but, my south is Texas. But fried foods and sweet tea are to die for, plus the tex-mex.
Monica Pulliam
(Monica Pulliam 1:26pm April 7, 2008)
I'm a northerner through and through and through! Born in Chicago, and live her my whole life (so far) but sure wish I were a southerner when the cold weather lasts as long as it does up here.
(Jan Terry 10:02am April 9, 2008)
I'm a northerner raised in upstate NY (which is way different from NYC, so please don't confuse the two! ;-) Now I'm living in Canton, OH which is very similar to where I grew up. I love the snow and cold because I can put on enough stuff to stay warm but there are laws against taking off all your clothes trying to get cool! I can't fathom why anyone would want to eat biscuits and gravy, or grits, now cornmeal mush on the other hand is the bomb and there are times when I'd kill for a good egg cream. YMMV
(Norma Storms 3:10pm April 9, 2008)
I was raised in New Jersey but now live outside Los Angeles. I think I'm western which is a little different from north or south, however if I'm pressed, I guess I'm a northerner.
(Betty Breithaupt 1:49pm April 22, 2008)
I am born and raised in NY but wish I was a southern girl. All those great houses with pillars, and the slow paced life really appeal to me. Actaully I wish I had born in the south 200 years earlier (without the wars)cuz I also love the long dresses.
(Peg Sullinger 9:23pm May 30, 2008)
Registered users may leave comments.
Log in or register now!