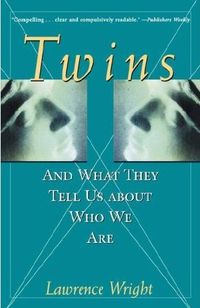 Purchase
And What They Tell Us About Who We Are
Wiley
February 1999
On Sale: January 27, 1999
202 pages
ISBN: 0471296449
EAN: 9780471296447
Paperback
Add to Wish List

Twins And what They Tell us about who we are How much are our character, intelligence, and lifestyle a result of our genes? In this compelling hook, award-winning journalist Lawrence Wright reveals how twins are helping to unravel these and other mysteries of human identity. Recent studies of twins have shaken the field of psychology to its foundation, revolutionizing our understanding of our own personalities. Because identical twins separated at birth share all the same genes, yet live separate lives, they offer a unique opportunity to test theories about the roles played by nature and nurture in shaping who we are. With its genesis in the author's acclaimed New Yorker magazine article, Twins directly challenges many long-held beliefs. For instance, a series of groundbreaking studies of twins has shown that our genes play a much stronger role in shaping our identities than previously thought. Today, scientists can actually estimate what proportion of our intelligence, our personality, and our behavior is determined by inherited tendencies. Even our political orientation and our religious commitment, it turns out, are largely governed by our genes, Twins is filled with astounding stories of identical twins who have lived entirely separate lives but have an incredible amount in common: their hobbies, their mannerisms, their taste in music, food, and clothes, their experiences in marriage and divorce, their careers, their sexuality, even the names they've given their children. Perhaps even more surprising is the discovery that our family life has startlingly little effect on the type of person we become. The nongenetic factors that have the greatest impact on shaping our lives are not the way our parents raise us, or the kind of family in which we grow up, but our experiences outside our families. Introducing the latest findings in this heated area of research, Lawrence Wright presents a lively narrative that is at once engaging, provocative, and told with remarkable clarity. The ongoing and often volatile debate of nature vs. nurture has intrigued mankind for centuries. With Twins, Lawrence Wright provides a bold addition to current thinking, and a must-read for all those fascinated by the deepest mysteries of human nature and identity.

Media Buzz
All Things Considered - October 25, 2007

Comments
No comments posted.

Registered users may leave comments.
Log in or register now!