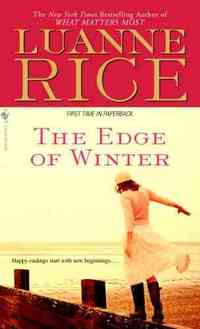 Purchase
Bantam
December 2007
On Sale: November 27, 2007
512 pages
ISBN: 055358765X
EAN: 9780553587654
Mass Market Paperback
Add to Wish List

Neve Halloran and her daughter have shared a fierce love for the austere beauty of Rhode Island's South County ever since Neve guided Mickey's first baby steps along the sandy shore. Now, with Mickey a teenager and Neve's last hope for happiness with her daughter's loving but unstable father gone, both will struggle to make a new life together amid the windswept landscape that sustains them.

Captivated by a fragile wildlife sanctuary, Mickey will move toward womanhood in the company of a lonely boy who shares her instinctive way with the creatures of the coast. And Neve will find herself drawn to a man who has devoted his life to the sanctuary, but who is unable to share the pain of a recent loss—or reconnect with the father who still bears the scars of World War II.

As winter gives way to spring, and spring to summer, a secret will emerge that has lain buried in the depths just offshore for decades, a secret that will galvanize the small seaside community. For the waters bear their own vestige of the past—and their ceaseless rhythms may point the way to hope and new beginnings.

Lyrical, luminous, and utterly captivating, The Edge of Winter is Luanne Rice at her most penetrating and insightful, in a moving exploration of the bonds that shape us and set us free.


From the Hardcover edition.
Comments
48 comments posted.
Kathleen O'Brien did a series of books called the "Four Seasons in Firefly Glen" and gave each one a different tytle. I really love that series.
(Donna Holmberg 3:58am February 21, 2010)
I don't have a favorite book
with a season in the title, that
I can think of. Maybe I should
check them out again.
(Margay Roberge 8:17am February 21, 2010)
Christmas stories, especially any and all anthologies!
(Eva Minaskanian 10:04am February 21, 2010)
I love winter books, especially the ones where the hero/heroine become snowbound in a remote or deserted place. There was a historical anthology I read last fall that I really enjoyed "Snowy Night With A Stranger", it had stories of the H/H being stranded together at an Inn during a snowstorm. Love those types of stories. And after being stranded alone with a cat during a few snowstorms I know it would've been much better to be stranded with someone else! LOL
(Shauna George 11:17am February 21, 2010)
Sandi,
I can't think of one right off hand. I think I may have read one called The Summer House. If I think of one I will let you know.
(Julie Harper 11:20am February 21, 2010)
My favorite series of books that involve the seasons is by author Jaci Burton. It's a four book series called A storm For All Season. It's about the four Storm siblings who each have magical powers to match one of the seasons of the year.
Otherwise the only ones I can think of this early in the morning are the Christmas ones.
(Carol Cobun 11:24am February 21, 2010)
Sandi,
I love Jude Deveraux and the Summerhouse books, but I've got an author I ADORE that has one for each season...

Lisa Kleypas, The Wallflower Series

SECRETS OF A SUMMER NIGHT

IT HAPPENED ONE AUTUMN

THE DEVIL IN WINTER

SCANDAL IN SPRING


If you haven't read these amazing books, you need to run, not walk and get them!!!


Love your blog Sandi!

:)

Tammy
(Tammy Faris 12:07pm February 21, 2010)
My absolute favorite summer book is Lisa Kleypas "Secrets Of A Summer Night. it's the first book in the Wallflower series. it captures you from the start & is hard to put down. the wallflower series is all seasons, first book Summer, 2ed Autumn, 3ed winter, 4th spring, then the last is Christmas. if you haven't read them i highly recomend them.
(April Kirby 12:08pm February 21, 2010)
Well of course Forbbidden Falls for sure and I have read Luanne's book. And the ones that come to mind our Lisa Kleypas books, which i have on my tbr list Scandel in Spring, Secrets on a Summer Night, It Happened One Autum and Devil in Winter.. ..
(Kathleen O'Donnell 12:09pm February 21, 2010)
My favorite summer read is Summer at Willow Lake by Susan Wiggs. This is a series about the Bellam Family, there are several seasonal titles. I was surprised to see that I had quite a few in my TBR pile already.
(Ronica Rainge 12:27pm February 21, 2010)
The only one I can think of is Winter Kiss by Deborah Cooke. If you like shape-shifting dragons you'll like this story.
(Joyce Mandle 12:29pm February 21, 2010)
I can't think of a season title right off- but I do know that my buying habits are influenced by the season and I tend to pay more attention to them when in the bookstore.
(Sara Edmonds 12:32pm February 21, 2010)
I don't have a favorite book title with seasons, just love them all. Perhaps if I had to pick any of them with Winter, cozy in front of a fireplace with HOT guy, oh yeah!
(Elizabeth Parzino 1:34pm February 21, 2010)
Come The Spring by Julie Garwood is one of my favorites, but then anything written by Julie Garwood is just as good and is on my favorite list!
(Patsy Hagen 1:45pm February 21, 2010)
As usual, I was beat to the punch. Lisa Kleypas' Wallflower series are the first "season" books that come to mind. I know I have more out there, I just can't think of them on my lazy day!!

Later,

Lynn
(Lynn Rettig 1:46pm February 21, 2010)
Sandi,

My favorite "Season" book is A Summer to Remember by Mary Balogh -- a great historical romance book that's a comfort read for me.
(Danielle DeBuono 1:57pm February 21, 2010)
Lisa Kleypas' seasonal Wallflower books, Susan Wiggs' Summer by the Sea and The Winter Lodge, and Toni Blake's One Reckless Summer are favorites of mine. I also have a shelf full of books with the word Christmas in the title!
(Cheryl Castings 2:13pm February 21, 2010)
I love Susan Wiggs, so even though I haven't read them yet, I know Summer at Willow Lake, The Winter Lodge, and Summer by the Sea will be favorites.
(Janet Lewis 3:17pm February 21, 2010)
The one's that stand out are the Christmas seasonal books. I can't recall titles but I seek them out at that time of year.
(Mary Preston 3:25pm February 21, 2010)
One of my favorites is Barbara Freethy's "Suddenly One Summer." Another is Susan Crandall's "A Kiss in Winter."
(Jane Cheung 4:05pm February 21, 2010)
The Winter Lodge was a super book.
(Sue Farrell 4:27pm February 21, 2010)
Jane, I have both those books in my pile! I think I'm waiting for all the books to release in the Freethy
sereis first. I'm currently reading a Crandall book, so I just might have to move on and read some more of
her soon!
(Sandi Shilhanek 5:26pm February 21, 2010)
The first seasonal book that came to mind was Boys of Summer, baseball of course, a Blaze anthology that I enjoyed even though I am not a baseball fan! I think that is the right title!! Several mentioned Susan Wiggs seasonal titles, her Lakeshore Chronicles books are very good. So far I don't have The Winter Lodge. I'm also a lover of the books that come out that are Christmas stories, I start reading them right after Thanksgiving Mrs. Miracle by Debbie Macomber is a favorite as are her stories about the angels Shirley, Goodness & Mercy. Those angels are my kind of people!
Interesting subject Sandi. I like how you make us think.
(Donna McClure 5:35pm February 21, 2010)
Want to tell everyone thanks for stopping by. You're all so good for my ego!
(Sandi Shilhanek 6:24pm February 21, 2010)
One seasonal book that comes to mind is 'A Promise of Spring' by Mary Balogh. Another is 'One Summer'by Karen Robards. Both are oldies but goodies.
(Rosemary Krejsa 6:53pm February 21, 2010)
At first I was going to say that I don't have a favorite book by season because I don't go looking for books that way. However, I did read "Summer at Willow Lake" and it is one of my keepers as it brought back memories of going to camp when I was a kid (real nostalgia). I like Christmas books too although I personally hate the holiday (you figure it out). Loved the pic of your place covered in snow! I hope it melts soon! And spring comes to all of us!
(Trudy Miner 7:00pm February 21, 2010)
Sandi--this was a clever question! I came up with three titles: One Summer by Karen Robards (already mentioned--I read this book long after others had and really liked it, The Winter of Our Discontent by John Steinbeck (my favorite author--but this is not my fav book by him), Angels Fall by Nora Roberts--one of my favs by her. I couldn't come up with a title with including spring.
(Mary Perry 7:33pm February 21, 2010)
Of course I would have to say Forbidden Falls by Robyn Carr as I am an avid VR reader. I also liked Summer at Willow Lake by Susan Wiggs and One Reckless Summer by Toni Blake. I can't thing of a winter one but do like any stuck in a blizzard with a hunky man books.
(Diana Smith 7:44pm February 21, 2010)
Trudy glad you liked the snow picture, but unfortunately the beautiful house isn't
mine. It's a friends! Isn't it lovely?
(Sandi Shilhanek 7:58pm February 21, 2010)
I have been keeping a written list of the books as I finish them and I glanced through them to look for seasons in the titles. The only one I had listed was That Summer by Joann Wolf. I have read over 100 books since then, so don't recall the details of the book right off, but am confident that a slight glance at a review or such would bring the plot back to mind.
(Gladys Paradowski 8:01pm February 21, 2010)
Winter Prey by John Sanford. I've read all of his "Prey" books.
(Vikki Parman 8:08pm February 21, 2010)
Didn't check the others all the way through, so forgive me if I duplicate, but Ruth Axtell Morren's Wild Rose is one of my faves, and she also wrote Winter Is Past and Lilac Spring. :)
(Laura Phillips 8:23pm February 21, 2010)
I love the anthologies that come
out at Christmas, Valentines, and
other holidays.
(Lisa Richards 9:08pm February 21, 2010)
I just bought One Reckless Summer by Toni Blake but haven't read it yet....although I just know I'm going to love it!!!
(Mitzi Hinkey 9:25pm February 21, 2010)
I love Susan Wiggs! I've read all of hers!
(Brenda Rupp 9:45pm February 21, 2010)
Well, since nothing came to mind instantly, I went thru my lists. Donna is correct on the Blaze bk - Boys of Summer. I read that two and really liked it. Did I really read it in 2006? Its been that long? I also found two others by Margaret Maron - Last Lessons of Summer and Winter's Child. The first is a single title by her and the second part of her Deborah Knott series. She is now an autobuy for me, and I've yet to be disappointed with her books. I have other books with the seasons in the title, but as of yet, they are still in the tbr pile.

Sandi - love the pic of your friend's house. Of course, as you mentioned, I can see that every day at the moment. Thinking maybe the snow will be gone by May . . . .
(Amanda Reeder-erdly 11:05pm February 21, 2010)
We'll be having some snow coming tomorrow, though not enough to keep us housebound. I've looked up my book list and found over 100 seasonal titles. Some authors have written a whole year of novels. Denise Domning wrote "The Graistan Series" (1194-1196) in order: WINTER'S HEAT, SUMMER'S STORM, SPRING'S FURY, AUTUMN'S FLAME and A LOVE FOR ALL SEASONS. I love historical novels but haven't read these yet.

Autumn seems to be the least favorite season to write about, but I came up with THE AUTUMN COUNTESS, aka THE COUNTESS by Catherine Coulter, AUTUMN'S FURY by Emma Merritt, and AUTUMN RAIN by Anita Mills. I haven't read Merritt's book yet, but I loved the other 2.

Spring: SPRING FIRES by Cynthia Wright, SPRING FANCY by LaVyrle Spencer

Summer: DARK SUMMER, a romantic suspense novel by Iris Johansen; LADY OF SUMMER by Merritt; MIDSUMMER MOON by Laura Kinsale, one of my favorites; ONE SUMMER, SUMMER GAMES, and SUMMER DESSERTS by Nora Roberts; SPRING FROST, SUMMER FIRE by Maura Seger; SUMMER IN ECLIPSE BAY, from one of my favorite series, by Jayne Ann Krentz; SUMMER ISLAND by Kristin Hannah; and SUMMER OF THE DRAGON by Elizabeth Peters.

Winter: A WINTER BALLAD by Barbara Samuel; ALL THE WINTERS THAT HAVE BEEN by Evan Maxwell (husband of Elizabeth Lowell); A ROSE IN WINTER by Kathleen E. Woodiwiss; and 2 books titled FIRES OF WINTER, one by Johanna Lindsey, the other by Roberta Gellis, two more oldies but goodies.
(Sigrun Schulz 1:51am February 22, 2010)
Aw the snow days to read. Lisa Kleypas , Devil in Winter was good. And Lisa Kleypas, Secrets of a summer night.
(Julie Wolf 5:30am February 22, 2010)
Sigrun, It's so funny you found a LaVyrle Spencer title because even though she no longer writes, I so badly wanted
to include her, but didn't take the time to keep looking. I loved her stuff when she was writing, and am so sad that I
have nothing left in my pile by her.

I also read One Summer by Robards, Summer in Eclipse Bay by Krentz, and Summer Island by Hannah. I love
Hannah! One Summer is the first book I read by Robards, and hooked me.

Thanks to everyone for your contributions!
(Sandi Shilhanek 5:45am February 22, 2010)
I love to read Christmas books around the holiday as well as during the winter. Susan Wiggs has seasonal books out too. I can only remember one by Susan and it's Summer at Willow Lake also think One Restless Summer by Toni Blake was really good. Notice I perfer winter or summer..not really the case but these are the books that came to mind. ha susan L.
(Susan Leech 9:54am February 22, 2010)
I like to read Rest You Merry by Charlotte MacLeod during the Christmas season.
(Anne Jones 10:42am February 22, 2010)
I can't think of a seasonal book title off hand other than the many anthologies that come out for the holidays. But I always end up re-reading Ray Bradbury's Dandelion Wine in the summer.
(Sandy Giden 2:11pm February 22, 2010)
Summer Sisters by Judy Blume.
I read this over last summer and it was quite different then the books I've read before. The ending was also so different for me too. Usually when the story ends I know how I want it to be if it's a cliffhanger :? , but this time I don't really know . I had some major mix feeling after reading it.

Judy Blume does this to me all the time. She's good right?
(Nicole Dicenord 5:11pm February 22, 2010)
I read "The Scandelous Summer of Sissy Leblanc" each summer....it just get's me in the mood.
(Danelle Drake 6:19pm February 22, 2010)
I don't have seasonal reading but holiday reading. I usually save up anything with a Christmas holiday until the first snow. My latest is Merry christmas, Cowboy by Cindy Kirk.
(Jeanne Sheats 6:39pm February 22, 2010)
Deep Kiss of Winter by Kresley Cole & Gena Showalter.
Kresley's story has Valkeries & Vampires continuing her Immortals After Dark series. Gena's story has Shape-shifter heroine & Goldenskin warrior continuing her Alien Huntress series. Both are great reads!
(Jill Merriott 9:23pm February 22, 2010)
Aw shucks. I had a party all planned for such a beautiful mansion of a house, and it's not even yours. . .

I remembered Nora Roberts' Angels Fall after someone else mentioned it, and found Summer After Summer by Ann DeFee. It's an Everlasting Love book from Sept '07.

I've got tons of books that have Christmas, Valentine, and Thanksgiving in the titles. Other than that not much for seasons, but I do have several hundred that have Mommy or Daddy in the title in some form or another.
(Donna Breitkreuz 12:17pm February 24, 2010)
I have yet to read her books.
(Deb Pelletier 10:12pm February 27, 2010)
Registered users may leave comments.
Log in or register now!