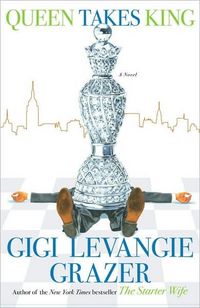 Purchase
When a famous NYC real-estate mogul dumps his socialite wife, the divorce games begin, and the players will use anything in their arsenals to win.
Simon & Schuster
June 2009
On Sale: June 16, 2009
Featuring: Cynthia Hunsaker Power; Jackson Power
336 pages
ISBN: 0743291999
EAN: 9780743291996
Hardcover
Add to Wish List

Jackson Power. A name like the man himself: aggressive, ambitious, bullish. The prodigal son, heir to millions, built his own Manhattan real estate empire and revels in seeing his moniker — Power! — on glittering skyscrapers around the city that never sleeps. Beneath his desk in the towering Power headquarters, Jacks has a stack of newspapers and photographs of himself, shaking hands with the most famous men and women of his generation. Here's a man who's always loved to see his name in ink.
Until now.
Cynthia Hunsaker Power. She is the epitome of elegance and society. The perfect foil for a man of Jacks's stature — his first and only wife, he'd proudly tell any of his Master of the Universe (read: Gargoyle) friends. The former prima ballerina arrived in New York at eighteen, off the bus from Missouri, brimming with talent, beauty, and drive. She met a struggling painter, fell in love, and only later learned she'd won the Power lottery. Now she sits on the New York Ballet Theater board, effortlessly outdoing herself with one gala after another. But the press coverage of the Power silver anniversary party at the Waldorf takes the cake.
Jacks Power appears twice in the New York Post the next morning — once gallantly dancing with his wife of twenty-five years, Cynthia; and once hand in hand with Lara Sizemore, morning television star, exiting her Upper West Side apartment building that very same night.
To Jackson Power, Lara is everything his wife Cynthia is not — wild, voluptuous, mysterious, and self-sustaining. A new passion has swept Jacks off his well-shod feet — and she is Lara Sizemore. He is ready for the divorce, ready to marry hismistress, America's Sweetheart. But Cynthia isn't ready to be swept out of the picture quite so easily.
Let the Divorce Games begin.
Whether they're changing the locks on each other in their Park Avenue triplex or sabotaging each other's dinner parties, it's The People's Billionaire vs. The Ballerina, in a split-up that will trump the most scandalous divorces known to polite New York society. Cynthia's got their twenty-five-year-old artist daughter, Vivienne, in her camp; Jacks has the young bartending playwright Adrian, whom he intends to pay to seduce Cynthia into an easy split. But Cynthia might have a few tricks up her well-tailored Chanel sleeve, and she — like Jacks — is prepared to use every weapon in her divorce arsenal to win the game. It's a battle of wits, of charm, of two of the biggest egos — and personalities and bank accounts — in Manhattan, and neither side will go down without a fight.

Media Buzz
Weekend Edition Sunday - June 28, 2009
Today - June 15, 2009

Comments
13 comments posted.
Re: Queen Takes King

This is GREAT. I like to see who wrote the books I read. Only make the photos larger.
(Evelyn Day 9:12pm June 20, 2009)
Sorry to have missed both events! I don't read Rachel Caine so sorry to have missed the chance to see if she could have persuaded me as some
other authors have. I'm also sorry I missed Gigi because I listened to The Starter Wife and would have liked to have heard her to see if she's like
other authors I know and talks like she writes.

Thanks for the pictures so at least I can pretend I was there!
(Sandi Shilhanek 10:01pm June 20, 2009)
Thanks for the pictures - I love to see authors in their element.
(Cheryl Snyder 10:25am June 21, 2009)
This so cool! Getting to see who writes the books we read!!
Thanks!
(JoAnn White 12:46pm June 21, 2009)
I enjoy seeing photos of the authors. It makes them seem more real.
(Karin Tillotson 4:12pm June 21, 2009)
They say a picture is worth a thousand words! These truly fit that.
(LuAnn Morgan 9:47pm June 21, 2009)
Hi! Thanks for the photos and telling how to make them larger! Cool pictures!!
(Martha Lawson 10:33pm June 21, 2009)
The Historical Society Conference
looks like it was terrific. Something I
could enjoy.
Kind of scary that Gigi wrote the book
before it happened.
Shame on them for not having cake at
the signing.
(Patricia Barraclough 10:39pm June 21, 2009)
The photos are wonderful and Your books sound great.
(Robin McKay 12:43pm June 22, 2009)
It's always nice to hear about new historical books. It's the type I was raised on, because my father read them too--both true and fictional--the same as I do. Novels can truly bring life to bygone eras.
(Sigrun Schulz 5:51pm June 25, 2009)
I always love seeing photos of authors. It's nice to put a face to the name.

It's especially nice seeing authors doing what authors do, write, sign, hang out at conferences, maybe posing with a cover model or ten...hehe!!!
(Valerie Bongards 1:26pm June 28, 2009)
It's great that you can give us a view of authors doing what they do best, writing
(Diane Sadler 10:41am July 2, 2009)
It is interesting to read about your favorite authors.
(Cindy Madson 5:45pm July 6, 2009)
Registered users may leave comments.
Log in or register now!