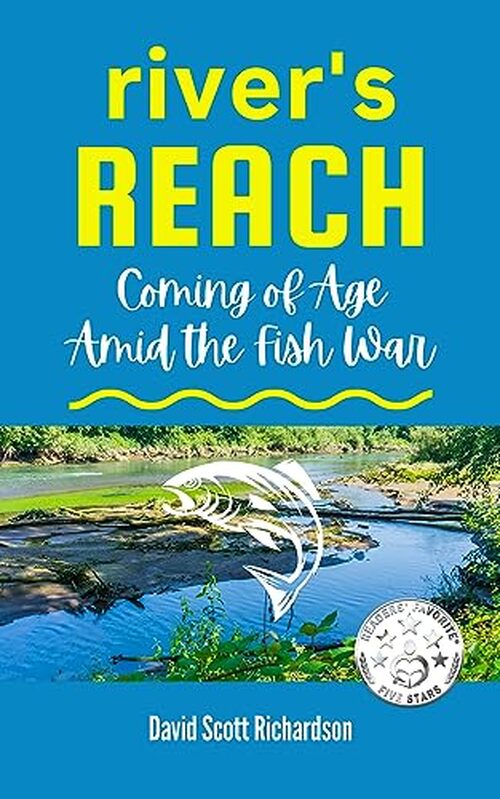 Purchase
Coming of Age Amid the Fish War
Author Self-Published
September 2023
On Sale: September 4, 2023
Featuring: Alex Haugen; Amanda Schneider
326 pages
ISBN: 0167481002
EAN: 2940167481008
Kindle: B0CCSSKK73
e-Book
Add to Wish List

ADVENTURE. HISTORY. AWAKENING. Life is good for high school senior Alex Haugen. He has a group of buddies to fish the Nisqually River with, his membership on the football team guarantees status with his peers, and he's recently set his sights on Amanda Schneider – an engaging blend of brains, beauty, and personality. He's beginning to think that the lead cheerleader and star lineman go together like burgers and fries.

Learning that his dad participated in the latest fishing raid at Frank's Landing, Alex's curiosity is piqued. The more he reads, the more he realizes how little he knows about the deep-rooted conflict between the Washington State Game Department and local tribes. The state claims the right to enforce conservation measures and the tribes claim that their treaty rights supersede state regulations.

Alex has strong convictions about conservation but wonders if there's more to the story. Indian netting can't be the only reason fish are in decline. Strident and entrenched certainties dominate both sides of the fishing controversy, and Alex begins to resent that a side may have been chosen for him at birth.

Chancing conflict with his dad – an officer with the game department – Alex's quest for understanding rouses discovery of his own voice and the courage to stand apart from his parents and peers. Along the way, he befriends Charlie McCallister, a Nisqually Indian his dad arrested in a raid.

Amanda, whose mom does pro bono work for the tribe, is a social justice warrior at heart. As the fish war heats up, her readiness to support the tribe clashes with Alex's reluctance to rock the boat with his father and threatens to drive a wedge in their blossoming romance.

Charlie, Amanda, and the Nisqually River form the key catalysts for Alex's awakening as the story unfolds against the backdrop of a nation gripped by the civil rights movement, the Vietnam War, and the seismic tunes of rock 'n roll.

This novel is suitable for MG/YA and the young at heart. It contains no gratuitous language, but there are a few swear words, in keeping with the characters and story.
Comments
No comments posted.

Registered users may leave comments.
Log in or register now!