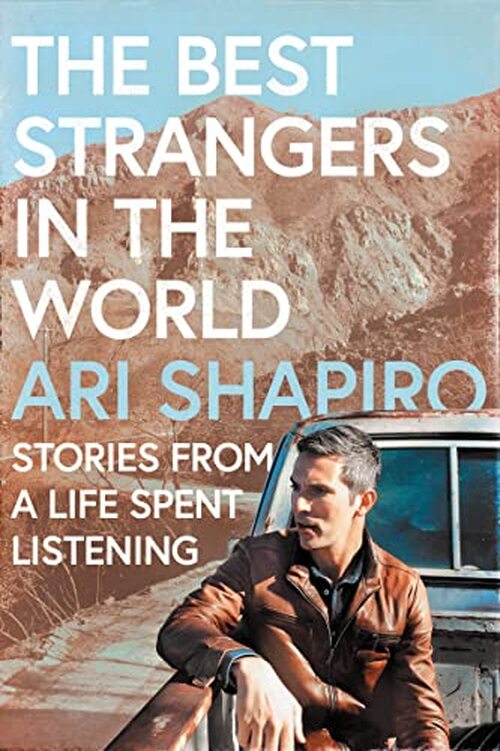 Purchase
The Best Strangers in the World
Ari Shapiro
Stories from a Life Spent Listening
HarperCollins Publishers
April 2023
On Sale: March 21, 2023
ISBN: 0063221349
EAN: 9780063221345
Kindle: B0B6KNPH58
Hardcover / e-Book
Add to Wish List

Praise for The Best Strangers in the World
"Listening to—and now reading—Ari Shapiro is both revelatory and comforting. Revelatory in how he coaxes out and shapes a story, comforting that he is actually doing so. He is a beacon of idiosyncratic frankness and curiosity in an increasingly banal and complicit journalistic world. Here, though, it is he who is the story, and his scoop is letting us meet his true self: as good and kind and effortlessly brilliant a man as you could hope to meet. Every page exudes his utter positivity and made me long for another adventure with him."
Alan Cumming, New York Times-bestselling author of Not My Father's Son: A Family Memoir and Baggage: Tales from a Fully Packed Life
"The Best Strangers in the World is a witty, poignant book that captures Ari Shapiro's love for the unusual, his pursuit of the unexpected, and his delight at connection against the odds."
Ronan Farrow, Pulitzer Prize-winning investigative journalist and New York Times-bestselling author of Catch and Kill and War on Peace
"Ari Shapiro takes us with him from his boyhood in Fargo, North Dakota, to a globe-trotting journalistic career. The wonderful tale he tells is through the eyes of the people he has met as strangers and the stories of their humanity. Along the way there are lots of laughs and tears and important reflections that will change how readers see the world, too."
Nina Totenberg, New York Times-bestselling author of Dinners with Ruth
"This book is the dinner party conversation you're always hoping to have—empathetic and erudite essays that circle the globe but find time to zero in on sparkling, tiny details. With his breathtakingly vast set of talents, interests, and experiences, Ari Shapiro is one of the most interesting people you'll encounter. But his beguiling memoir invites the reader to look outward with him. Like a true journalist, he isn't the story. Rather, The Best Strangers in the World captures snapshots of our complex world and its endless capacity for beauty. Infused with queer magic, intellectual curiosity, and music, Shapiro's writing voice, like his reporting and performing voices, greets you like an old friend and invites you into a space you never want to leave.
R. Eric Thomas, author of Here for It, or How to Save Your Soul in America
From the beloved host of NPR's All Things Considered, a stirring memoir-in-essays that is also a lover letter to journalism.
In his first book, broadcaster Ari Shapiro takes us around the globe to reveal the stories behind narratives that are sometimes heartwarming, sometimes heartbreaking, but always poignant. He details his time traveling on Air Force One with President Obama, or following the path of Syrian refugees fleeing war, or learning from those fighting for social justice both at home and abroad.
As the self-reinforcing bubbles we live in become more impenetrable, Ari Shapiro keeps seeking ways to help people listen to one another; to find connection and commonality with those who may seem different; to remind us that, before religion, or nationality, or politics, we are all human. The Best Strangers in the World is a testament to one journalist's passion for Considering All Things—and sharing what he finds with the rest of us.
Comments
No comments posted.

Registered users may leave comments.
Log in or register now!