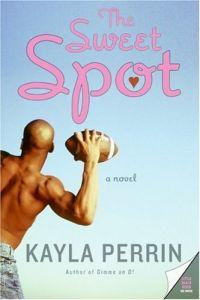 Purchase
The Sweet Spot has nothing to do with football...
Avon
June 2006
Featuring: Kahari Brown; Zoe Andrews
304 pages
ISBN: 0060753994
Trade Size
Add to Wish List

Just ask Kahari Brown, one of the NFL's sexiest stars. He knows how to handle a football, and always thought he had a way with the ladies. But his smooth moves off the field are only getting him into hot water these days.
And no one is hotter than Zoƫ Andrews. When she thrusts a mic in his face and asks him if he's the father of a crazy fan's baby, he's ready to tackle her and toss her out of the locker room on her shapely butt. But there's something about Zoƫ . . .
Zoƫ's Rule Number One: Never Date an Athlete!
Zoƫ will do anything to make it as a top sports reporter, even ask the controversial question that puts her toe to toe with Kahari. Still, she can't help noticing that the brother is mighty fine. Now the heat is on and Zoƫ is wondering if she should have fanned the flames, because she's falling for Kahari's charm -- something she swore she'd never do. Yet it's hard to resist his smooth moves, making Zoƫ wonder, is he sweet-talking his way into her heart for love -- or for something else?
Comments
No comments posted.

Registered users may leave comments.
Log in or register now!