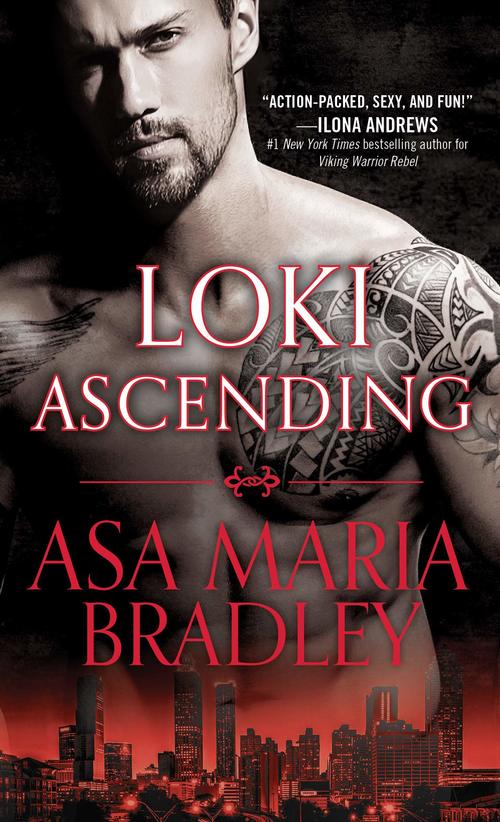 Purchase
LOKI WANTS TO END THE WORLD Only they can stop him—but at what cost?
Viking Warriors #3
Sourcebooks
January 2020
On Sale: January 1, 2020
320 pages
ISBN: 149261890X
EAN: 9781492618904
Kindle: B07VXXVNTC
Mass Market Paperback / e-Book
Add to Wish List

Fantasy Urban | Romance Paranormal
Although Scott Brisbane is human, he's developed an inner warrior—a berserker that wants to claim Irja Vainio as his own.
Irja is an immortal Viking healer, but she hasn't used her true powers for centuries. The last time she did, someone close to her ended up dead. So instead she relies on medicine and science to protect her tribe while denying her feelings for Scott.
But the Viking warriors are falling mysteriously ill, and without magic, Irja's knowledge of healing isn't enough. When the trickster god Loki offers her a cure, it comes with a steep price that could cost Irja everything. She needs Scott's help, the man whose loyalty to the Vikings is unmatched, whose love for Irja cannot be broken—and whose inner fury has yet to be unleashed.
Viking Warriors
Comments
21 comments posted.
Re: Loki Ascending

Yay!!! I'm so excited for this next installment in your
Viking Warriors series! A supernatural power I'd love to
have is to be able to travel by dematerializing places in
the blink of an eye. That way I don't have to get stuck in
traffic or yell obscenities at people who don't properly
use the turn lane!
(Elizabeth Haney 11:48pm January 8, 2020)
sounds very interesting,,dont know that ive read a book
like this before
(Vickie Couturier 9:16am January 9, 2020)
I would love to be able to fly.
(Melanie Rosen 1:19pm January 9, 2020)
I'd love the ability to heal myself and others. It'd sure
come in handy with my jobs.
(Tamara Kasyan 1:25pm January 9, 2020)
I've been a fan of Norse mythology since I was a kid. Love
that it's getting more love lately. This series sounds great.
(Nicole Hulst 3:31pm January 9, 2020)
Looks like such an exciting series!
(Tracy Urschler 4:14pm January 9, 2020)
I would love to become invisible.
(Cynthia St. Germain 5:36pm January 9, 2020)
Thank you everyone for coming to visit! And those all sound
like excellent super powers!
(Asa Maria Bradley 5:53pm January 9, 2020)
I would like the ability to teleport.
(Christine Bean 5:00am January 10, 2020)
I want to be invisible . ...
(Martin Bodnar 7:51pm January 10, 2020)
I would like to be invisible. There is so much I would find out.
(Victoria Kondovski 2:41pm January 12, 2020)
Congratulations on your release! I would love to have the
power of psychokinesis. Then all my chores could be done
with just a thought.
(Tina Rucci 2:54pm January 12, 2020)
I'd like to be able to talk to the dead.
(Lori Byrd 3:08pm January 12, 2020)
Healing powers
(Mary C 3:21pm January 12, 2020)
Healing powers of course
(Christina Boronkas 3:23pm January 12, 2020)
I would love the power of teleportation . I could save so much on travel
visiting family and still sleep in my own bed.
(Debbie Fuller 4:20pm January 12, 2020)
I would love to be invisible at times
(Tricha Leary 11:10pm January 12, 2020)
I would like to be able to teleport. Flash from one location to another would be great.
(Phyllis Lamken 5:12pm January 13, 2020)
I would want to be able to fly
(Janet Johnson 12:17pm January 14, 2020)
Sounds like a great story. I sure can see advantages of
being invisible at times.
(Nancy Reynolds 10:53am January 15, 2020)
I think shapeshifting would be great. You could fly high in
the sky or run in the forest with all the wild animals and
so and so.
(Tina Alicea 1:18am January 20, 2020)
Registered users may leave comments.
Log in or register now!