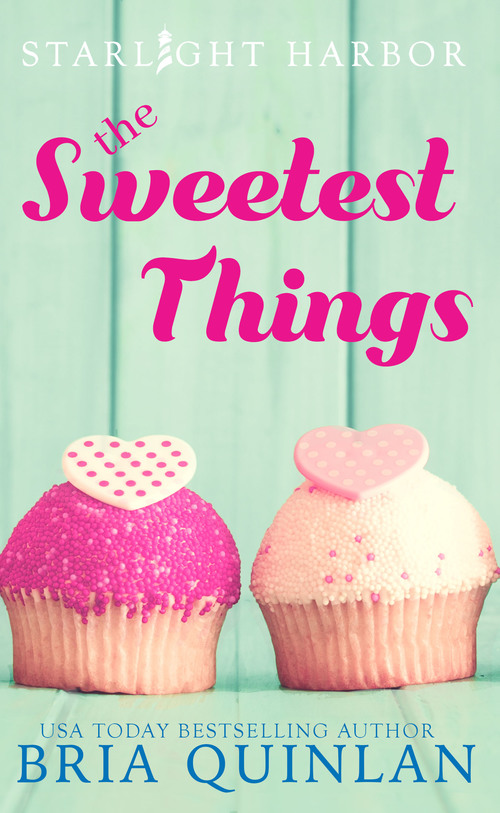 Purchase
Pink Door Publishing
July 2019
On Sale: July 3, 2019
Featuring: Lyra Grigor; Spence C├┤te
ISBN: 1950275035
EAN: 9781950275038
Kindle: B07TYRVXFH
e-Book
Add to Wish List

Starlight Harbor's Sweetheart has had enough…
Lyra Grigor is the easy going, sweet, smile-at-everyone owner of The Sweetest Things. When an annoying travel site puts Starlight Harbor on their Top Ten Tacky Tiny Towns list for the fourth year running, she knows it's time to give the writer a bit of spicy tart instead of a teaspoon of sugar.
An outsider who just wants out…
Spence Côte has no idea what hit his site. Nearly a thousand replies on some little baker's comment and everything has blown up. Since the site is up for sale, it couldn't have happened at a worse time. Now he has to drive up to the middle of nowhere coast of Maine and get this resolved. ASAP.
Two worlds collide…
Between the puppies dressed as pirates, the old women masquerading as tavern wenches, and the sweetest little baker he's ever seen, Spence knows Starlight Harbor might not just be freakishly adorable….it might be what he'd been looking for.
Can he sell his snark site while still making things right with the surprisingly sweet Lyra??
WARNING: The Starlight Harbor series a collection of quirky fast-fall romances. You may start as enemies, but the novellete series means you'll end as more...also, you'll have battle the town lairds (yes, plural), a troublemaking pup, and women who seem to think there's a 1800s war going on...somewhere.
Comments
17 comments posted.
Halloween - dress up,parties,candles pumpkins and candy =
fun times
(Tammy Ryan 9:07am July 26, 2019)
Thanksgiving - getting together with family and sweet
potato casserole! (Thanks for the chance to win!)
(Scarlett Renner 9:21am July 26, 2019)
Thankgiving a time of family and lots of flove and TUrkey
and dressing
(Vickie Couturier 9:42am July 26, 2019)
This is more of a memory, but whenever Easter would roll around and we would
hunt for Easter eggs around the house. Mum would wake up extra early, and hide
them under planters, behind curtains, etc. while we were still sleeping. It was a fun
little surprise. Sometimes I'd still find one a few days later lol.
(L. C. 2:52pm July 26, 2019)
My mother's family would attend midnight mass together every
Christmas. Not a big deal, except she is one of 9 children and my
aunts and uncles all had large families. We are talking 50+ people
attending together. Afterwards we went to my grandparents house
for brunch. I have no idea how we all managed to fit into the house,
but we managed and had a great time. 20 adults and 40 to 50
children can certainly make for a festive time.
(Patricia Barraclough 8:54pm July 26, 2019)
I think my favorite holiday is Easter. Because of the renewal of all things. I can remember dressing up with matching dresses with my little sister and the the little white Mary Janes, the only thing different was the color of the ribbon on our dresses.
(Cynthia St. Germain 9:12pm July 26, 2019)
Christmas - We go to the Candlelight Christmas Eve service
and look at Christmas lights on the way home. Christmas day
we enjoy spending time with family and having a meal
together. Always lots of fun.
(Maryann Skaritka 11:27pm July 26, 2019)
I've always loved Christmas best. Since I had children,
seeing everything through their eyes made it even more
special.
(Zara Heflin 12:05pm July 27, 2019)
First, let me say, I love the inspiration for the series.
Thanks for telling the story!

Regarding favorite holidays, all my happiest memories
revolve around the people I'm spending it with.
Christmas, Thanksgiving, Fourth of July, whatever it may
be, it's not really the occasion, it's the people.
(Lyssa H 12:41pm July 27, 2019)
Thanksgiving - get together with family for a good meal
(Diane Sallans 9:52pm July 27, 2019)
September 2019 Calendar Excel
(Janvi Singh 8:35am July 29, 2019)
nice
(Rohit Sharma 8:37am July 29, 2019)
My favorite holiday memory is going with ny dad to pick out
the biggest tree that touched the ceiling. This was back in
1960's when I was a young girl. That was so much fun.
(Llnda Farabaugh 1:46pm July 29, 2019)
Starlight Harbor sounds fabulous.
(Pam Howell 8:19am July 30, 2019)
Decorating the Christmas tree!
(Sharlene Wegner 7:21pm July 30, 2019)
These are all so fabulous! I love the personal touch so many of you
brought instead of just saying "X day" - This has been a really happy-
making comments thread for me!
(Bria Quinlan 10:00pm July 30, 2019)
Christmas
(Katrina Dehart 11:35pm July 30, 2019)
Registered users may leave comments.
Log in or register now!