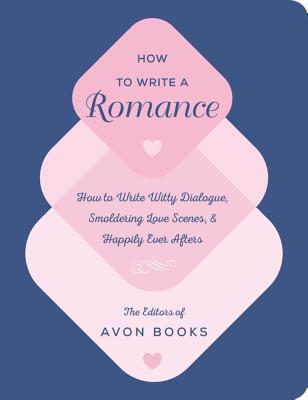 Purchase
Or, How to Write Witty Dialogue, Smoldering Love Scenes, and Happily Ever Afters
Avon
July 2019
On Sale: July 9, 2019
ISBN: 0062899279
EAN: 9780062899279
Hardcover
Add to Wish List

Romance | Non-Fiction Craft | Non-Fiction
A unique, beautifully designed journal filled with helpful tips and invaluable advice vital for every aspiring romance novelist—and every romance fan!

For romance writers and readers alike, How to Write a Romance is a sleek, inventive journal that will inspire you to create love stories that stir the heart, tease the imagination, and touch the soul. Inside this handy diary, you'll find an introduction and tip sheet compiled by the editors of Avon Books, the premiere romance publisher.
Sharing their wisdom and expertise, the Avon Romance editors guide you through the basic construction of a romance novel and highlight the most common pitfalls to avoid. The pages that follow include 180 prompts touching on every aspect of romance writing: dialogue, character development, scene description, situational entries, and more. Exercise your imagination and skill with such challenges as:
Describe your heroine without her having to look in the mirror.
Make a list of 5-10 of your hero's characteristics—be sure to include both good and bad qualities to help clarify how he will react in different situations.
Write a scene between two female characters discussing something unrelated to the hero.
Write a meet cute in a library.
In addition, renowned bestselling Avon authors such as Eloisa James, Beverly Jenkins, Lisa Kleypas, Julia Quinn, Sarah MacLean, Jennifer Ryan, Lori Wilde, and more, share their own insights and offer words of encouragement, sprinkled throughout the journal in hand-lettered text.
A beautiful keepsake and practical tool that embodies the essence of romance fiction, How to Write a Romance will enflame your passionate and creative spirit!
Comments
12 comments posted.
Enjoyed the interview & learning a little bit about the editors.
(Jana B 5:26pm July 12, 2019)
This looks like a very interesting book and one that I would like to read. I think most readers have thought about writing a book and have no idea how to go about it.
(Mary Songer 6:18pm July 12, 2019)
I'm still a bit in shock over the dragons or unicorn
question, but great interview. Thanks for all of the
information ladies.
(Vivian Taylor 12:35pm July 13, 2019)
Great interview! Love Nicole's hobby answer, I could do that one. :-)
(Annetta Sweetko 2:54pm July 13, 2019)
Looks like a very good read to help me out in writing
romance.
(Thomas Gibson 7:39pm July 13, 2019)
What an interesting interview, really enjoyed it!
(G. Bisbjerg 12:09pm July 14, 2019)
loved the interview
(Denise Holcomb 12:50pm July 14, 2019)
I enjoyed the article and interviews with the editors
(Denise Holcomb 12:53pm July 14, 2019)
very interesting article
(Vickie Couturier 7:47am July 14, 2019)
I liked the article
(Ron Frampton 9:24am July 14, 2019)
I like the Romance genre where love wins all the time.
Well, it may take awhile to get there, but ultimately most
of the questions are answered and you're not left hanging,
wondering whether they'll end up HEA.
(Alyson Widen 2:18pm July 15, 2019)
What an interesting article. Always wanted to write a
romance novel.The interviews with the editors should help me
alot.
(Llnda Farabaugh 12:09pm July 16, 2019)
Registered users may leave comments.
Log in or register now!