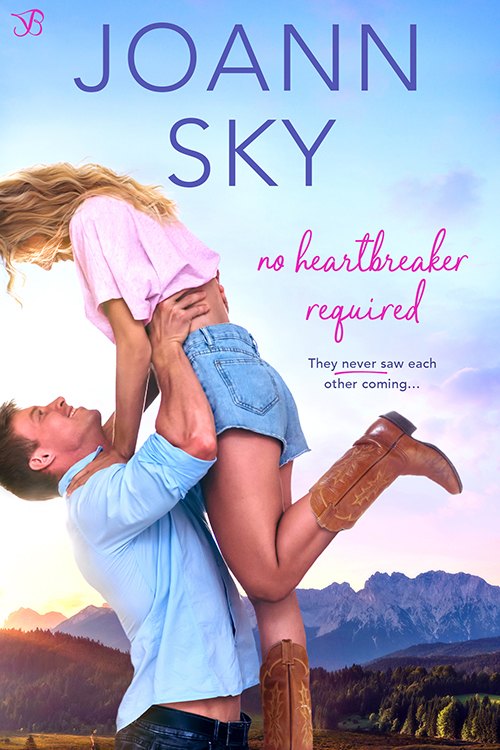 Purchase
No Heartbreaker Required
JoAnn Sky
Biggest Little Love #2
Entangled: Bliss
June 2019
On Sale: June 10, 2019
Featuring: Starr Taylor; Spencer Kensington
ISBN: 164063777X
EAN: 9781640637771
Kindle: B07RKLY65D
e-Book
Add to Wish List

Other Editions
e-Book (June 2019)
When an avalanche crushes her world, Olympic hopeful Starr Taylor loses her job, her boyfriend, and worst of all, her confidence. She's working on getting her life back together and moving forward, and it certainly won't be with Spencer Kensington, the far-too-attractive playboy lawyer she's forced to play nice with at their friends' wedding. Unfortunately, Spencer's trip to Reno gets extended unexpectedly, and Starr suddenly finds herself way too close for comfort with the man she's quickly realizing is more than he appears.
Spencer is a tough, no-nonsense New York businessman with a no- commitment rule in the bedroom. But a few days of living with Starr, feeding goats and helping her save troubled teens, has him feeling something he can't identify. In fact, the more Spencer gets to know the surprisingly vulnerable and tempting woman, the duller his superficial life in the city starts to seem. But everything he's worked for is waiting for him, and as Spencer's flight back home grows closer, he's left wondering if the life he has is really the life he wants.
Each book in the Biggest Little Love series is STANDALONE: * No Cowboy Required * No Heartbreaker Required
Comments
53 comments posted.
The romance in JoAnn Sky's books is so hot! She is an amazing
writer! What a read!
(Gwen Ray 8:27pm June 9, 2019)
I especially love that your hubby passes out your books when he
travels.
(Jana B 1:08am June 11, 2019)
That was an awesome list! It is so easy to forget all the little things that special someone does for you. I don't have a list of 5 at the moment but one thing my husband does for me is open car doors. I find that really sweet.
(Courtney Hunter 1:44am June 11, 2019)
Don't have a special someone. Yours have a brother hiding
somewhere?
(Judy Gregory 1:57am June 11, 2019)
The book sounds great. Thanks.
(Pam Howell 7:23am June 11, 2019)
This sounds like a book I would enjoy reading!
(Lori Raines 1:59pm June 11, 2019)
I love that you have such an amazing husband at your side.
Very cool! And the book sounds great!
I don't have a boyfriend or husband. This is by choice. I do
have a Yorkie that happens to be the love of my life and
without him I wouldn't be here.
1. He makes sure I wake up smiling every single day.
2. He is very aware of my emotional state and when I'm in a
zone where I'm too negative, he manages to switch it around
in different ways.
3. His trust in me is more than I ever thought I would have
gotten. If someone comes over that he doesn't know he stays
right in my arms.
4. His smile...I wish I could capture a picture of it! It
happens every time I come home no matter how long I have
been gone.
5. He knows bedtime! It's the way he cuddles under my neck
and stays nice and close
(Candy Voisine 2:11pm June 11, 2019)
The book sounds awesome! Thanks!
(Nicole Kuiper 4:58pm June 11, 2019)
My husband does most of the cooking for dinner
He tries to find a different place to vacation each
summer
He had a sleep test to figure out if he had apnea -- he
did! -- and now uses a CPAP machine so no snoring!!
He tolerates (mostly) my constant reading :)
He even lets me use his library card so that I can make
more requests than if I just had to use mine -- and
teases me constantly about the amount of books I have to
read!
(Sandy Haber 8:10pm June 11, 2019)
nicelist,,always good when the hubby gets involved
(Vickie Couturier 8:22am June 12, 2019)
This book looks amazing & you never letting me down with
your books, they are always a great read. Thanks for your
great generosity.
(Linda May 11:14am June 12, 2019)
This sounds like a great love story. I'll be checking it out. And congrats on having a wonderful husband. Some of us are lucky that way!
(Mary Songer 4:16pm June 12, 2019)
Congrats on the new release! It sounds like a great book. My husband is wonderful because he never complains about my ever growing book collection.
(Bonnie H 5:17pm June 12, 2019)
I'd love to win your giveaway!
(Scarlett Renner 8:48pm June 12, 2019)
I enjoyed the info about your thoughtful husband. He sounds like a very special man. Thank you for the sweepstakes.
(Anna Speed 10:37pm June 12, 2019)
I enjoyed your guest post & love how your husband takes care of you! I
enjoyed learning about your dogs too! Great post.
(Angela Saver 1:19am June 13, 2019)
thanks for the chance to read your books
(Susan Gannon 9:50am June 13, 2019)
Good luck with this one!
(Anna Budziak 11:49am June 13, 2019)
Congratulations on your new romance. Love your list of why your husband rocks.
(Phyllis Lamken 12:41pm June 13, 2019)
Reason 1 - Getting my feet rubbed nearly every day to
relieve my pain.
Reason 2 - Making me food when I am tired, whiny, and
cannot even make a cup of noodles for myself.
Reason 3 - Being a warm fuzzy huggy bear. Seriously, like
a heater under the covers.
(Vanessa Primer 7:44am June 14, 2019)
Thank you for a chance to win!
(Scarlett Renner 9:09am June 14, 2019)
My hubby is special as I am disabled and he helps me all
the time. He makes sure my scooter is running good and he
helps me open bottles. He stands outside the shower door
so when I am done he helps me out of the shower which is
great as I don't have to ask him. Also every Sunday we
make a desert and he has been making a blueberry
cheesecake for me he just is so sweet and often leaves me
notes not to try to do something with a sweet little
drawing at the end. He brings up the paper every morning
so I can see if my baseball is on during the day. He is
just over the top and we have been married for 17 yrs and
when we got married i had this disease and at that time
he knew what was going to happen and he still moved me
from Ca to Ia to be with him and his son. I had to leave
my kids but he tries to get me out there as much as he
can. He is a keeper for me! What a match made in heaven!
(Peggy Clayton 1:24pm June 14, 2019)
I don't have a special someone :( I totally wish I did! lol
But I love your list and looove your hubby tried to help
you come up with a list :)
(Sabrina Templin 4:48pm June 14, 2019)
THis book sounds like its for me :)
(Danielle McDonald 4:59pm June 14, 2019)
Well JoAnn, he sounds like a keeper. And if he wasn't already
'kept', I'd like an introduction! LOL
(Karen Haas 5:00pm June 14, 2019)
Your book sounds like a good read.
We love dogs had four at one time, three went over the Rainbow Bridge
then we got another one. They have so much fun together.
We have been married 50 years and he is a real keeper. He supports me
and helps with little stuff I am unable to handle anymore.
Thanks for the chance.
(Carol Smith 5:18pm June 14, 2019)
Sounds like a great read can't wait to read it 😁.
Thank you so much for the chance.
(Melissa Fowler 5:18pm June 14, 2019)
Might I say, both your hubby and your dogs sound lovely, and the book
sounds great! I'd say my guy and my dog are the normal ones. It's my cat
that thinks he's my cat hubby. Lol 😘💕🐶🐱
(Heather Scully 5:26pm June 14, 2019)
You have a cool and amazing hubby.
(Kim Hansen 5:34pm June 14, 2019)
It sounds like you have a lovely life, finding so many
thoughtful things about your husband to cherish. I find so
much to appreciate with mine.
(Deb Philippon 5:53pm June 14, 2019)
No Heartbreaker Required sounds like a great book
(Deborah Dumm 6:10pm June 14, 2019)
Your husband rocks!
(Nina T 6:39pm June 14, 2019)
I haven't read JoAnn Sky's books yet, but this one sounds like
a lot of fun!
(Diane Sallans 6:50pm June 14, 2019)
I think I just fell a little bit in love with your husband.
My late husband and I had such a relationship and I miss
him. Thank you, Viet Man.
(Kathleen Bylsma 7:45pm June 14, 2019)
My ex wasn't a romantic sort. One friend was appalled I'd never had my feet massaged so she got me a spa day! :)
(Lm Gonzalez 9:58pm June 14, 2019)
Your books sound amazing and so does your husband
Cathy Truman
(Cathy Truman 10:11pm June 14, 2019)
Fun cover!
(Caryl Kane 10:58pm June 14, 2019)
Your hubby sounds amazing! You're a new author to me,
and I would love to read your books! I will definitely
be adding them to my TBR ❤
(Desiree Kessler 2:18am June 15, 2019)
I'm hoping to win!! Thanks for the chance!
(Scarlett Renner 8:41am June 15, 2019)
love the cover, the books sounds great, good luck
(Wendy Hutton 2:31pm June 16, 2019)
You have a keeper husband! Mine is special because he always
mAkes me laugh.
(Margie Takala 2:55pm June 16, 2019)
My hubby is wonderful! Let me think of 5 reasons.
1. He works long hours at his job and takes on side work
so that I can stay home and take care of the kiddos.
2. He drives out of his way to pick up the sweet tea that
I love from a local eatery.
3. He loves our dog as much as I do and has him spoiled
rotten.
4. He attends all of our kids' sporting events when he
isn't working. And since two of them do travel baseball
he sometimes drives a long way.
5. He is the oldest of his siblings and he always helps
his whole family whenever they're in need.
I have to add a #6. He can fix anything, so I never have
to call a repair person.
(Ellie Wright 3:01pm June 16, 2019)
I wish my husband wasn't such a slacker. I could use one like yours.
(Lori Byrd 3:53pm June 16, 2019)
Your books are fun to read & your Husband sounds like a keeper. I had mind for 52 years, so enjoy everyday.
(Pat Wilson 4:06pm June 16, 2019)
Just my favorite genre to read. Love books
(Robin Davis 5:06pm June 16, 2019)
thanks for the giveaway!
(Gloria Schulte 5:16pm June 16, 2019)
Sounds really good and love the cover. Thank you for the
giveaway.
(Tracy Fritts 6:26pm June 16, 2019)
1:He works hard,2:He loves his family and me.3:Our female cat is his girlfriend.4:He helps around the house. 5:He'll put on a apron when I need to hem it for a friend, a (gift). He is just a wonderful man.
(Deb Pelletier 6:29pm June 16, 2019)
This book sounds great!!
(Scarlett Renner 6:52pm June 16, 2019)
sometimes, my husband brings home a treat from a bakery
near his office
(Denise Holcomb 11:20pm June 16, 2019)
"Most importantly, he brings me wine without my asking.
*swoon*" hahahaha! That is too funny!
(Angie Lilly 9:56am June 17, 2019)
Glad you are still both in love.
(Anna Budziak 10:10am June 18, 2019)
My daughter always brings me chocolate candy bars.
(Robin Davis 2:39am June 20, 2019)
Registered users may leave comments.
Log in or register now!