Jenna Petersen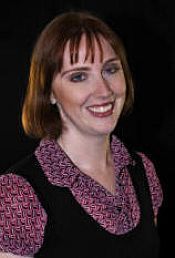 Blogging at Fresh Fiction
Jenna Petersen | A FAMILY AFFAIR
October 29, 2009
Hi everyone! Thanks to everybody at Fresh Fiction for having me back once again to Read More...
Jenna Petersen | Accidentally Dark: Or I Didn't Mean to Make Him Alpha
June 25, 2008
I am funny. Okay, I may not be stand-on-a-stage-do-The-Last-Comic-Standing funny, but I can tell a funny story Read More...
Jenna Petersen | In Search of A Topic!
August 10, 2007
When the fabulous ladies of Fresh Fiction contacted me and asked if I would guest blog today, my first reaction was to be excited. We Read More...
Pseudonym for Jess Michaels.
Pseudonym: Jesse Petersen.

Jenna Petersen knew she wanted to be a writer at a very young age and had a very specific image of what that meant.
In her mind, she would live in Los Angeles (why not New York... who knows?), attend book signings, drive a very expensive car and date endlessly (and apparently, unsuccessfully). There was little actual writing involved in the fantasy.
Instead, she got a degree in Psychology from the University of Washington, married her high school sweetheart and moved to Central Illinois. There was much actual writing involved in the reality and she learned a lot in the years she waited to hear she sold a book.
Jenna is a beginner to fencing (yes, with swords... actually, they are called foils), she enjoys travel, history, live baseball, and of course, all things related to reading and writing. She runs a website for aspiring authors called The Passionate Pen, which has become a popular resource in the romance writing community. She also writes erotic romance under the pseudonym Jess Michaels.
Log In to see more information about Jenna Petersen
Log in or register now!
Series
Books:
The Secrets of a Lady, September 2011
The Jordans #1
e-Book
A Scoundrel's Surrender, August 2011
Billingham Bastards #3
Paperback
Rogue for a Night, May 2011
e-Book
Undeniable, May 2011
e-Book
Almost A Spinster, May 2011
e-Book
The Unclaimed Duchess, September 2010
Mass Market Paperback
What The Duke Desires, November 2009
The Billingham Bastards #1
Mass Market Paperback
Her Notorious Viscount, April 2009
Mass Market Paperback
Lessons From A Courtesan, July 2008
Paperback
Seduction is Forever, October 2007
Lady Spies - # 3
Paperback
Desire Never Dies, January 2007
Lady Spies - Book 2
Paperback
From London With Love, August 2006
Lady Spies - Book 1
Paperback
Scandalous, October 2005
Paperback