Lea Wait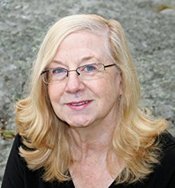 I've been writing mysteries for grownups (the Shadows Antique Print Mystery Series and the Mainely Needlepoint Series) and historical fiction for young people set in 19th century Maine since I left corporate America in 1998 and moved to Maine, a state I've always loved and where I had family ties.
SHADOWS ON A MORNING IN MAINE, the latest in the Shadows series, was published in September, 2016. The Midwest Book Review said it was "deftly plotted, with unexpected story twists and turns ... an extraordinary novel by a master of the mystery/suspense genre... unreservedly recommended."
DANGLNG BY A THREAD, the fourth in my USA TODAY best-selling series, (Suspense Magazine called it "highly recommended") was just published.
In my LIVING AND WRITING ON THE COAST OF MAINE I write about what it's like to be an author living in Maine. Full of love and humor, it shows how my work and life intersect.
And my latest book for young people, about two teenaged boys who really published their town's newspaper during the first two weeks of the Civil War, is UNCERTAIN GLORY.
I earned my B.A. at Chatham College (now Chatham University) and have graduate degrees from New York University. I've owned an antique print business since 1976. I adopted my 4 wonderful daughters when I was a single parent. They're grown now, and I have eight perfect grandchildren. (Aren't all grandchildren perfect?) In 2003 I married Bob Thomas, a man I've known and loved since 1968. Bob's an artist, and is immensely supportive of my writing. (He even does all the errands and cooking so I have no excuses to leave my desk!)
My favorite quotation is "Destiny is not a matter of chance, it is a matter of choice; it is not a thing to be waited for; it is a thing to be achieved." William Jennings Bryan wrote that, but I think it defines my life. For more information about me, check my website, www.leawait.com, friend me on Facebook and Goodreads, and read the blog (www.mainecrimewriters.com) I write with 9 other mystery writers from Maine.
And remember -- LIFE is the REAL mystery!
Log In to see more information about Lea Wait
Log in or register now!
Series
Mainely Needlepoint Mystery Series
Books:
Thread and Buried, December 2019
Mainely Needlepoint #9
Mass Market Paperback
Thread on Arrival, May 2019
Mainely Needlepoint #8
Mass Market Paperback / e-Book
Thread Herrings, November 2018
Mass Market Paperback
Thread the Halls, November 2017
Mass Market Paperback / e-Book
Tightening the Threads, April 2017
Mainely Needlepoint Mystery Series #5
Paperback / e-Book
Dangling by a Thread, November 2016
Mainely Needlepoint Mystery Series #4
Paperback / e-Book
Thread and Gone, January 2016
Mainely Needlepoint Mystery Series #3
Paperback / e-Book
Threads of Evidence, September 2015
Mainely Needlepoint Mystery Series #2
Paperback / e-Book
Twisted Threads, January 2015
Mainely Needlepoint Mystery Series #1
Paperback / e-Book
Shadows at the Spring Show, June 2006
Antique Print #3
Paperback