Kylie Brant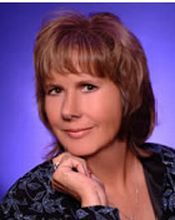 Blogging at Fresh Fiction
Kylie Brant | Perfect People are Boring
November 10, 2010
Of course, no one is really perfect, despite attempts to appear that way. But we all know people who seem like it on the surface Read More...
Kylie Brant | Making a Living
July 22, 2009
I love being a writer. At least, most of the time. But occasionally there are days like today, when the words won't come and Read More...
In the all about me department, I'm a native Midwesterner, having lived my whole life in Iowa. My husband and I are still trying to adjust to becoming empty nesters. Much of the time we rattle around our big century-old Victorian with a spoiled Polish Lowland Sheepdog named Lexie. We're on the go a lot, traveling to see our kids and grandsons, tailgating at Iowa games, and enjoying new tropical getaways. If you know anything about Iowa winters, you'll understand our desire for sun and beach once January hits.
In 1990 I began writing out of sheer desperation. Always an avid reader, I'd found that my favorite authors just couldn't write fast enough to keep me in reading material. Someday if you twist my arm and buy me very strong margaritas, I might be convinced to share my whole embarrassing road to publication story. The short version is that my second manuscript sold in 1992, and then a few months later my first manuscript was bought, too, after it had undergone several major surgeries. To date I've written twenty-five books for Silhouette Intimate Moments (Romantic Suspense), three dark romantic thrillers for Berkley, a short story for eharlequin.com and participated in an Iowa authors murder mystery.
I live a dual life. Believe me, that sounds much more glamorous than it is. By day I'm an elementary special education teacher, working with students who have learning and behavior problems. During the weekends and summers…well, I can be forgiven for needing a little relaxation, right? And if my idea of relaxation includes dreaming up new ways to kill and maim my characters, it seems a harmless enough hobby. Some people golf. Now there's a dangerous pastime. All those swinging clubs and small speeding objects. Someone could lose an eye.
When I'm not at the computer (always writing, never playing solitaire), I enjoy hanging out with family and friends, exercising, reading, flower gardening, and traveling.
Log In to see more information about Kylie Brant
Log in or register now!
Series
Books:
Dangerous Passions, March 2015
e-Book
Deadly Sins, August 2011
Paperback
Deadly Dreams, April 2011
Mindhunters #5
Mass Market Paperback / e-Book
Deadly Intent, November 2010
Mindhunters #4
Paperback
Waking the Dead, November 2009
The Mindhunters #3
Paperback
Waking Evil, October 2009
The Mindhunters #2
Paperback
Waking Nightmare, September 2009
Paperback
Terms Of Attraction, July 2009
Alpha Squad #3
Mass Market Paperback
Terms Of Engagement, January 2009
Alpha Squad #2
Mass Market Paperback
Terms Of Surrender, October 2008
Alpha Squad #1
Mass Market Paperback
The Last Warrior, October 2006
Paperback
The Business of Strangers, May 2005
Paperback
The Lady In Red & Dangerous Deception, November 0000
Paperback