Teresa Hill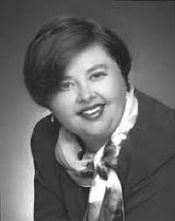 Born in the bluegrass region of Central Kentucky, Teresa Hill grew up thinking there would be nothing better in the world than being a writer, not so surprising given the public library in her town was in an old church building, complete with beautiful stained glass windows. Books seemed, if not holy, at least spiritual, comforting and a way to travel the world and enjoy adventure after adventure.
She adored the Boxcar Children and Island of the Blue Dolphin, loving the idea of living on her own at a young age. Little Women was glorious, although she never quite accepted the fact that Jo and Laurie didn't end up together. And The Outsiders by S. E. Hilton shocked her by being not only a great stories, but also being written by someone in her teens!
Prior to that, she'd been sure writers were old, gray and impossibly wise, living in castle-like splendor and seclusion, as befitted such extraordinary creatures.
Then she discovered romance! Actually, historical fiction with a nice dose of romance, in the adult fiction section of the old church turned library. Victoria Holt under her pseudonym Jean Plaidy, writing about the Kings of England and their wives, but with a decidedly romantic bent. And that was it. She was hooked. She wanted to become a romance writer.
Now, she lives in the shadows of the beautiful Blue Ridge Mountains, with a very understanding husband, two children, two dogs and two cats. She has written thirty books under her real name and previously under the pseudonym Sally Tyler Hayes.
Log In to see more information about Teresa Hill
Log in or register now!
Series
Books:
Wet 'n Wild Navy SEALs, June 2016
e-Book
Bed Of Lies, May 2012
The McRae's, #3 - Zach
e-Book (reprint)
The Edge of Heaven, March 2012
The McRae's #2
e-Book (reprint)
Twelve Days, December 2011
The McRae's--Sam & Rachel #1
e-Book
Unbreak My Heart, November 2011
e-Book
His Bride By Design, September 2011
Paperback / e-Book
Luke's Wish, July 2011
Paperback
Countdown To The Perfect Wedding, August 2010
Paperback / e-Book
The Texan's Diamond Bride (Silhouette Special Edition), November 2009
Mass Market Paperback
The Nanny Solution, February 2009
Mass Market Paperback
Single Mom Seeks..., January 2009
Mass Market Paperback
Mr. Right Next Door, May 2007
Paperback
Someone To Watch Over Me, March 2007
Paperback
Her Sister's Fianc, November 2006
Paperback
A Little Bit Engaged, February 2006
Special Edition Series, #1740
Paperback