Mackenzie McGuire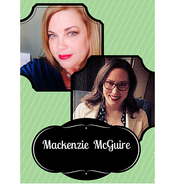 Pseudonym: Candace Havens.
Pseudonym: Gwen Reyes.

You might have guessed that Mackenzie lives a life surrounded by celebrities and witches, and you'd be mostly correct. Except in her world the celebrities are on TV and the witches are imaginary friends. She knows a thing or two about making up a good story, since she is actually the creation of two friends: Candace Havens and Gwen Reyes. Although Mackenzie is Candace's and Gwen's escape from reality, she does often have a mind all her own.
CANDACE HAVENS Bio:
Bestselling author Candace Havens has written multiple novels for Berkley, Entangled and Harlequin. Her books have received nominations for the RITA's, Holt Medallion and Write Touch Reader Awards. She is the author of the biography Joss Whedon: The Genius Behind Buffy and a contributor to several anthologies. She is also one of the nation's leading entertainment journalists and has interviewed countless celebrities including Tom Hanks, Nicolas Cage, Tom Cruise, George Clooney and many more. Her entertainment columns can be read in more than 600 newspapers across the country. And she is the Editorial Director for the Covet, Edge and Select lines at Entangled Publishing. Candace also runs a free online writing workshop for more than 2200 writers, and teaches comprehensive writing class. She does film reviews with the Hawkeye & Dorsey on 96.3, and is a former President of the Television Critics Association.
GWEN REYES Bio:
Gwen Reyes has always had an insatiable thirst for a great story, and thanks to her love of books (and disgust with the corporate lifestyle) she has the opportunity to bring together authors and readers.) Her writing career began in 2009 following a three year stint in the film festival world. As a member of the Television Critics Association Gwen travels all over the country to interview your favorite actors and actresses. Gwen lives in Dallas, Texas with her direwolf boxer mutt Loki, whose favorite movie is LADY AND THE TRAMP.
Log In to see more information about Mackenzie McGuire
Log in or register now!
Series
Saxton Academy
Books:
Hex, July 2015
Saxton Academy #1
e-Book

Videos