Lee Hollis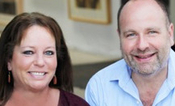 Holly Simason is an award winning food and cocktails columnist who worked for the Mount Desert Islander newspaper in Bar Harbor, Maine for ten years.
While working at the paper, she won her first award for her column in 2010. It was at that point her brother Rick Copp saw an opportunity. He writes mysteries and she writes recipes. Combine the two for a new book series. They would write under a pen name comprised of their middle names "Lee" and "Hollis". And the successful Hayley Powell Food & Cocktails Mystery series was born.
Holly now resides on the Crystal Coast in North Carolina where she continues to write the popular series with her brother. She is also busy creating and testing new recipes for a future Hayley Powell cookbook.
Holly continues to visit her home town of Bar Harbor every summer where the series is set to reconnect with friends and keep her Maine roots intact.
Any similarities between her and Hayley Powell are strictly coincidental.
Rick Copp is a veteran TV and Film scriptwriter whose many credits include The Golden Girls, Wings, Teen Titans, The Brady Bunch Movie, Scooby Doo, Barbershop among many others. Currently he writes, produces and stars in the hit web series Where the Bears Are.
In 2003, he wrote his first comedic murder mystery The Actor's Guide to Murder, which was followed by two sequels. He also penned a 2007 stand alone novel Fingerprints & Facelifts and a 2010 graphic novel Celebrity Zombie Killers. Once he read his sister's food and cocktails column, he became an instant fan of her recipes and it was his editor at Kensington Publishing who first suggested a cozy mystery series with recipes featuring an intrepid food columnist with a nose for crime solving.
Rick bounces back and forth between LA where he continues to work on TV and film projects and Palm Springs, California where he writes the Hayley Powell Food and Cocktails Mystery series.
Log In to see more information about Lee Hollis
Log in or register now!
Series
Hayley Powell Mystery | Maya and Sandra
Books:
Christmas Mittens Murder, October 2023
Hardcover
Death of a Clam Digger, August 2023
Mass Market Paperback
Poppy Harmon and the Shooting Star, June 2023
Desert Flowers #5
Hardcover / e-Book
Irish Coffee Murder, February 2023
Hardcover / e-Book
Murder on the Class Trip, December 2022
Maya and Sandra Mystery Series #3
Mass Market Paperback / e-Book
Death of an Ice Cream Scooper, August 2022
Hayley Powell Mystery # 15
Mass Market Paperback / e-Book
Poppy Harmon and the Backstabbing Bachelor, May 2022
A Desert Flowers Mystery #4
Hardcover / e-Book
Poppy Harmon and the Pillow Talk Killer, April 2022
A Desert Flowers Mystery #3
Mass Market Paperback / e-Book
Murder at the Bake Sale, December 2021
Maya and Sandra Mystery Series #2
Mass Market Paperback / e-Book
Halloween Party Murder, September 2021
Hardcover / e-Book
Death of an Italian Chef, July 2021
Hayley Powell Mystery #14
Mass Market Paperback / e-Book
Poppy Harmon and the Pillow Talk Killer, April 2021
Hardcover / e-Book
Poppy Harmon and the Hung Jury, March 2021
Desert Flowers Mystery #2
Mass Market Paperback / e-Book
Christmas Card Murder, November 2020
Hardcover / e-Book
Murder at the PTA, September 2020
Maya and Sandra Mystery
Mass Market Paperback / e-Book
Death of a Wicked Witch, July 2020
Hayley Powell Mystery #13
Mass Market Paperback / e-Book
Death of a Blueberry Tart, April 2020
Hayley Powell #12
Mass Market Paperback / e-Book
Poppy Harmon and the Hung Jury, January 2020
A Desert Flowers Mystery #2
e-Book
Poppy Harmon Investigates, December 2019
Desert Flowers #1
Mass Market Paperback / e-Book (reprint)
Haunted House Murder, September 2019
Hardcover / e-Book
Murder at the PTA, September 2019
Paperback
Death of a Wedding Cake Baker, May 2019
Hayley Powell #11
Mass Market Paperback / e-Book
Yule Log Murder, November 2018
Hardcover / e-Book
Poppy Harmon Investigates, August 2018
A Desert Flowers Mystery #1
Hardcover / e-Book
Death of a Cookbook Author, May 2018
Hayley Powell Mystery #10
Mass Market Paperback / e-Book
Eggnog Murder, November 2017
Mass Market Paperback / e-Book
Death of a Lobster Lover, July 2017
Mass Market Paperback
Eggnog Murder, November 2016
Hardcover / e-Book
Death of a Bacon Heiress, April 2016
Hayley Powell Mystery #7
Paperback / e-Book
Death of a Cupcake Queen, June 2015
Hayley Powell Food and Cocktails Mysteries
Paperback / e-Book
Death Of A Chocoholic, January 2014
Hayley Powell Mystery #4
Paperback / e-Book