Megan Frampton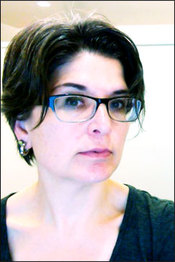 Blogging at Fresh Fiction
Megan Frampton | Author-Reader Match: GENTLEMAN SEEKS BRIDE
February 9, 2022
Instead of trying to find your perfect match in a dating app, we bring you the "Author-Reader Match" where we introduce Read More...
Megan Frampton's love affair with books began when her gormless parents (not an ounce of gorm between them. And let's not even mention feck) moved her to a remote town in New Hampshire where there was only one television station.
And then the TV broke.
She devoured every book of fiction in her well-read parents' library, finding special joy in Barbara Cartland (she was young, remember), Georgette Heyer, C.S. Lewis, Anya Seton and the fairy tales collected and translated by Andrew Lang.
Megan majored in English literature at Barnard College with a double minor in political science and religion. She worked in the music industry for 15 years, editing and writing music reviews for a music industry trade magazine. Eventually, she became the Editor-in-Chief and went on to develop music industry conference programs.
Megan married one of her former interns and lives in Brooklyn, NY, with him and her son. Now that she stays at home, Megan has returned to reading and writing the fiction that was her first love. She is a member and President of the Beau Monde (2004-2005), the Regency chapter of the Romance Writers of America, and a member of the NYC chapter of the RWA as well.
Log In to see more information about Megan Frampton
Log in or register now!
Series
Dukes Behaving Badly | Duke's Daughters | Hazards of Dukes
Books:
Her Lessons in Persuasion, February 2023
Mass Market Paperback / e-Book
Four Weeks of Scandal, July 2022
Hazards of Dukes #1
Mass Market Paperback / e-Book
Gentleman Seeks Bride, December 2021
A Hazards of Dukes Novel
Mass Market Paperback / e-Book
A Wicked Bargain for the Duke, May 2021
Mass Market Paperback / e-Book
Tall, Duke, and Dangerous, November 2020
Hazards of Dukes #2
Mass Market Paperback / e-Book
Never Kiss a Duke, February 2020
Hazards of Dukes #1
Mass Market Paperback / e-Book
The Earl's Christmas Pearl, November 2019
Duke's Daughters
e-Book
Never a Bride, May 2019
Duke's Daughters #4
Mass Market Paperback / e-Book
The Lady Is Daring, October 2018
The Duke's Daughters
Mass Market Paperback / e-Book
Lady be Reckless, March 2018
The Duke's Daughters #2
Mass Market Paperback / e-Book
A Christmas to Remember, October 2017
Mass Market Paperback / e-Book
Lady Be Bad, August 2017
Duke's Daughters
Mass Market Paperback / e-Book
My Fair Duchess, March 2017
Dukes Behaving Badly #5
Paperback / e-Book
Why Do Dukes Fall in Love?, August 2016
Dukes Behaving Badly #4
Mass Market Paperback / e-Book
One-Eyed Dukes Are Wild, January 2016
Dukes Behaving Badly #3
Paperback / e-Book
Put Up Your Duke, July 2015
Dukes Behaving Badly #2
Paperback / e-Book
When Good Earls Go Bad, February 2015
A Victorian Valentine's Day Novella
e-Book
The Duke's Guide to Correct Behavior, December 2014
Dukes Behaving Badly #1
Paperback / e-Book
Hero of My Heart, April 2013
e-Book