Marguerite Kaye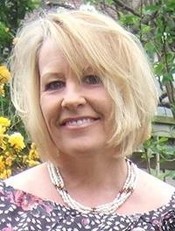 Blogging at Fresh Fiction
Marguerite Kaye Interview - Heroines With Age and Experience
April 13, 2022
LADY ARMSTRONG'S SCANDALOUS AWAKENING is set in the Victorian era. What appeals to you about Read More...
Marguerite Kaye is a prolific historical romance author hailing from Argyll's West Coast. She is a voracious consumer of books, Scotland's world-class larder, and the occasional cocktail.
Log In to see more information about Marguerite Kaye
Log in or register now!
Series
Hot Arabian Nights | Matches Made in Scandal | Penniless Brides of Convenience
Books:
Lady Armstrong's Scandalous Awakening, April 2022
Revelations of the Carstairs Sisters #2
Mass Market Paperback / e-Book
Regency Christmas Liaisons, November 2021
Mass Market Paperback / e-Book
The Earl Who Sees Her Beauty, October 2021
Mass Market Paperback / e-Book
A Forbidden Liaison with Miss Grant, September 2020
Paperback / e-Book
A Wife Worth Investing In, June 2019
Penniless Brides of Convenience #2
e-Book
The Earl's Countess of Convenience, May 2019
Penniless Brides of Convenience #1
Paperback / e-Book
A Scandalous Winter Wedding, December 2018
Matches Made in Scandal #4
Paperback / e-Book
His Rags-to-riches Contessa, October 2018
Matches Made in Scandal
Paperback / e-Book
From Courtesan to Convenient Wife, April 2018
Matches Made in Scandal #2
Paperback / e-Book
From Governess to Countess, March 2018
Matches Made in Scandal #1
Paperback / e-Book
Scandal At The Christmas Ball, November 2017
Mass Market Paperback / e-Book
Claiming His Desert Princess, April 2017
Hot Arabian Nights #4
Paperback / e-Book
The Harlot and the Sheikh, January 2017
Hot Arabian Nights #3
Paperback / e-Book
Sheikh's Mail-Order Bride, July 2016
Hot Arabian Nights #2
Paperback / e-Book
Scandal at the Midsummer Ball, June 2016
Paperback / e-Book
The Widow And The Sheikh, April 2016
Hot Arabian Nights #1
Paperback / e-Book
The Soldier's Rebel Lover, September 2015
Comrades in Arms 2
Paperback / e-Book
The Soldier's Dark Secret, March 2015
Comrades in Arms
Paperback / e-Book
Never Forget Me, July 2014
Paperback / e-Book
Rake With A Frozen Heart, April 2012
Paperback / e-Book
Gift-Wrapped Governess, October 2011
Paperback
Delectably Undone!, April 2011
MacEgan Brothers #7
Paperback