Ann Leary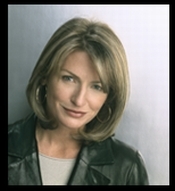 Photo Credit: Sigrid Estrada

I was born in Syracuse, New York in 1962 and then moved with my restless family to various parts of Pennsylvania, Maryland, Michigan and Wisconsin until my fourteenth year when we settled in Marblehead, Massachusetts. Because of all the moves, my friendships tended to be short-lived affairs and so I developed a strong fascination with books; specifically, books about animals. I became obsessed, at age four, with a beautifully illustrated storybook called, Little Black, A Pony, by Walter Farley. Recently I found a copy of it on eBay and when it arrived, the sight of my beloved Little Black (a pony) on the cover made my heart actually ache with nostalgic longing.
The first chapter book I recall reading was a child's version of Rudyard Kipling's A Jungle Book which was followed by Black Beauty, Lassie Come Home, Lad a Dog, My Friend Flicka, all the Black Stallion books and all the James Herriott books. I believe the first book I read whose main character didn't have a keen sense of smell or a lustrous sheen to her coat was Anais Nin's Delta of Venus which I discovered at a babysitting job when I was around thirteen, and overnight I switched favorite genres from inspiring stories about animals to inspiring stories about exotically beautiful, opium-addicted nymphomaniacs.
I attended Bennington College in Vermont for two years, then I transferred to Emerson College in Boston in 1982, and that is where I met Denis Leary, who was teaching a comedy writing class. I had heard it was an easy credit -- and I had heard right. After the semester-long class ended, Denis asked me out on a date. He ended up staying over that night -- I think there was a snowstorm or something -- oh hell, it was the eighties, people always stayed over after first dates -- and then he stayed over the next night and the next, and still, twenty-five years later, we're together. We were married in 1989.
In 1990, our son Jack was born prematurely during what was supposed to be a weekend-long comedy gig in London and we ended up staying for almost six months, as uninvited guests in Britain's National Healthcare System. My memoir about the experience, An Innocent, a Broad (Morrow) was published in 2004. Our wonderful son, Jack, is now 18 years old and college bound, and our lovely daughter Devin is 16. We live on a small farm in Connecticut with four dogs, four horses and an angry orange cat named Sneakers.
Log In to see more information about Ann Leary
Log in or register now!
Series
Books:
The Foundling, June 2022
Hardcover / e-Book
The Children, June 2016
Hardcover
The Good House, January 2013
Hardcover / e-Book
Outtakes from a Marriage, June 2008
Hardcover
An Innocent, a Broad, April 2005
Paperback