Valerie Hansen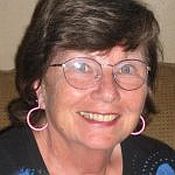 Valerie Hansen's basic nature is to see the humorous side of life and enjoy every day to the fullest. She's always loved stories about people who have successfully met life's challenges and gone on to find happiness, so writing joyful love stories is a perfect outlet for her.
Her personal life sounds a lot like a romance novel. She married her high school sweetheart and they raised two great kids before leaving California to pursue their dreams of a rural lifestyle in the Arkansas Ozarks. That relocation has also given her work a new, more spiritual focus than ever before.
Valerie had gone to Sunday school as a child and attended church off and on as an adult, but didn't really understand what was missing in her spiritual life until daily problems drove her to seek answers from a closer relationship with Jesus Christ. What a surprise! And what a difference in outlook. In the years that followed, she was continually amazed at the extraordinary opportunities that came her way. She still is.
Valerie has always loved to write. That, and the strong conviction that this is what she was meant to do, led her to Steeple Hill and the Love Inspired series. Besides extensive research, she has plenty of interesting experiences to draw upon when creating stories:
She's been a veterinary assistant, teacher's aide, volunteer fire department dispatcher, Emergency Medical Technician, bank worker, professional artist, store clerk, bookkeeper, 4-H leader, Sunday school teacher, gospel singer/songwriter, winning quiz show contestant, dog trainer, college extension-class instructor, and antique restorer. She's built dulcimers and a psaltery, laid bricks and tile, designed stained-glass windows, roofed a house, decorated store windows for the holidays, helped pour cement, raised fancy guinea pigs and finches, driven a long-haul moving van, and was once the proud owner of 23 Newfoundland dogs at one time. Her advice? Don't try that at home!
Valerie and her husband now live on an 80-acre farm in northern Arkansas. She loves to hike the rocky, wooded hills behind the picturesque old house they renovated, watch for the wildlife so abundant in the area and think up new ideas for her books.
She's always been a dreamer, a romantic who invented happier endings for books and movies that didn't already end on a lighthearted note. She was an adult before she realized that everybody didn't automatically do the same thing!
Log In to see more information about Valerie Hansen
Log in or register now!
Series
Classified K-9 Unit | Capitol K-9 Unit | True Blue K9 Unit: Brooklyn
Books:
On the Run, January 2021
Emergency Responders 3
Paperback / e-Book
Fatal Pursuit, December 2020
Mass Market Paperback / e-Book
Tracking a Kidnapper, August 2020
True Blue K9 Unit: Brooklyn #5
Paperback / e-Book
Christmas Rescue, December 2019
K-9 Unit
Paperback / e-Book
Fatal Threat, February 2019
Emergency Responders
e-Book
Special Agent, June 2017
Classified K-9 Unit #3
Mass Market Paperback / e-Book
Rookie K-9 Unit Christmas: Surviving Christmas, December 2016
Rookie K-9 Unit
Paperback / e-Book
Explosive Secrets, April 2013
Paperback / e-Book
Rescuing the Heiress, February 2011
Paperback
The Doctor's Newfound Family, June 2010
Paperback
No Alibi, June 2009
Mass Market Paperback
Blessings Of The Heart And Samantha's Gift:, December 2008
Mass Market Paperback
Nowhere To Run, October 2008
Mass Market Paperback
Wilderness Courtship, August 2008
Mass Market Paperback
Frontier Courtship, March 2008
Paperback
Hidden in the Wall, January 2008
Paperback
A Treasure Of The Heart, September 2007
Mass Market Paperback
Shadow of Turning, June 2007
Paperback
Deadly Payoff, May 2007
Miniseries: The Secrets of Stoneley
Paperback
Second Chances and Love One Another, January 2007
Paperback (reprint)
Out of the Depths, December 2006
Paperback
The Hamilton Heir, October 2006
Miniseries: Davis Landing
Paperback
The Danger Within, February 2006
Love Inspired Suspense Series
Paperback