Ken Follett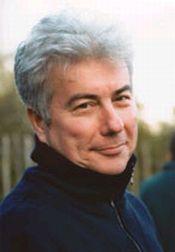 Ken Follett burst into the book world in 1978 with Eye of the Needle, a taut and original thriller with a memorable woman character in the central role. The book won the Edgar award and became an outstanding film starring Kate Nelligan and Donald Sutherland.
He went on to write four more bestselling thrillers: Triple; The Key to Rebecca; The Man from St Petersburg; and Lie Down with Lions. Cliff Robertson and David Soul starred in the miniseries of The Key to Rebecca. In 1994 Timothy Dalton, Omar Sharif and Marg Helgenberger starred in the miniseries of Lie Down with Lions.
He also wrote On Wings of Eagles, the true story of how two employees of Ross Perot were rescued from Iran during the revolution of 1979. This book was made into a miniseries with Richard Crenna as Ross Perot and Burt Lancaster as Colonel "Bull" Simons.
He then surprised readers by radically changing course with The Pillars of the Earth, a novel about building a cathedral in the Middle Ages. Published in September 1989 to rave reviews, it was on the New York Times bestseller list for eighteen weeks. It also reached the No. 1 position on lists in Canada, Great Britain and Italy, and was on the German bestseller list for six years.
For a while he abandoned the straightforward spy genre, but his stories still had powerful narrative drive, strong women characters, and elements of suspense and intrigue. He followed Pillars with Night over Water, A Dangerous Fortune, and A Place Called Freedom.
Then he returned to the thriller. The Third Twin is a scorching suspense novel about a young woman scientist who stumbles over a secret experiment in genetic engineering. Miniseries rights were sold to CBS for $1,400,000, a record price for four hours of television. The series, starring Kelly McGillis and Larry Hagman, was broadcast in the USA in November 1997. In Publishing Trends' annual survey of international fiction bestsellers for 1997, The Third Twin was ranked No. 2 in the world, beaten only by John Grisham's The Partner.
The Hammer of Eden, another nail-biting contemporary suspense story, came in 1998. Code to Zero (2000), about brainwashing and rocket science in the fifties, went to No.1 on bestseller lists in the USA, German and Italy, and film rights were snapped up by Doug Wick, producer of Gladiator, in a seven-figure deal.
Ken returned to the WWII era with his next two novels: Jackdaws (2001), a World War II thriller about a group of women parachuted into France to destroy a vital telephone exchange – which won the won the Corine Prize for 2003– and Hornet Flight (2002), about a daring young Danish couple who escape to Britain from occupied Denmark in a rebuilt Hornet Moth biplane with vital information about German radar.
His latest novel, Whiteout (2004), is a contemporary thriller about the theft of a deadly virus from a research lab. Set in the remote Scottish Highlands over a stormy, snow-bound Christmas, Whiteout crackles with jealousies, distrust, sexual attraction, rivalries, hidden traitors and unexpected heroes.
His next project will be the long-awaited sequel to The Pillars of the Earth.
Ken's papers are held in a collection at Saginaw Valley State University in Michigan, United States. These include outlines, first drafts, notes and correspondence, original manuscripts and copies of early books now out of print. He has sold approximately ninety million books worldwide.
Ken Follett is married to Barbara Follett, the Member of Parliament for Stevenage in Hertfordshire. They live in a rambling rectory in Stevenage, 30 miles north of London, with two Labrador retrievers called Custard and Bess. They also have an eighteenth-century town house in London and a holiday home in Antigua. Ken Follett is a lover of Shakespeare, and is often to be seen at performances by the Royal Shakespeare Company in London. An enthusiastic amateur musician, he plays bass guitar in a band called Damn Right I Got the Blues.
He was Chair of the National Year of Reading 1998-99, a British government initiative to raise literacy levels. He is president of the The Dyslexia Institute, Chair of the advisory committee of Reading Is Fundamental (RIF) UK, a council member of the National Literacy Trust, a member of The Welsh Academy, a board director of the National Academy of Writing, and a Fellow of the Royal Society of Arts. He is active in numerous Stevenage charities and is Chair of Governors of Roebuck Primary School.
Log In to see more information about Ken Follett
Log in or register now!
Series
Century Trilogy
Books:
The Evening and the Morning, September 2020
Kingsbridge #4
Hardcover / e-Book / audiobook
Notre-Dame, November 2019
Hardcover / e-Book
Edge of Eternity, September 2014
Century Trilogy #3
Hardcover / e-Book
Winter Of The World, September 2012
Century Trilogy #2
Hardcover / e-Book
Fall of Giants, October 2010
Century Trilogy #1
Hardcover / e-Book
World Without End, October 2008
sequel to The Pillars of the Earth
Trade Size
World Without End, October 2007
Hardcover
The Pillars of the Earth, April 2007
Paperback (reprint)
Whiteout, October 2005
Paperback (reprint)
Eye Of The Needle, January 2005
Paperback