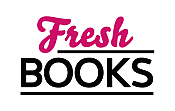 Best reads for September
Julie Nish
Features & Posts
No posts found.
2 comments posted.

Re: Burn For Me (3:33pm April 1, 2020):

I miss just roaming and all the fun stuff ancillary things,
the pens, notebooks, the sexy truth or dare cosmo couple
cards, the glittery journals, the games, postcards,
markers...

Re: Whispers of Warning (1:47am September 20, 2017):

Sounds like a divine read !