"What a delightful surprise WITCHES IN THE KITCHEN was; I cannot wait to read more from this author!"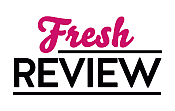 Reviewed by Angie Elle
Posted May 15, 2023

Mystery Cozy | Mystery Paranormal
Audiobook narrated by Amanda Ronconi
WITCHES IN THE KITCHEN by Danielle Garrett brings us the story of Blair, a young woman living an average life in an average world. Or so she thinks…until she witnesses a vampire feeding one night. By the next morning, she's convinced herself that it was all just a dream. But when the vampire comes back for her and she unexpectedly turns into a cat, it's time to face the music: Magic does exist. And she doesn't know the first thing about it. Enter SPA, also known as Supernatural Protection Agency, to show her the ropes.
This book kicks off the Magic Inn Paranormal series, spun off an existing series called Beechwood Harbor Magic Mystery, but it can be picked up and understood fine. There were a few instances I think may have been inside jokes from the first series, but not enough to jar me from the story or hinder my enjoyment.
I really liked Blair's character. Not long ago, she had a breakup, and she was just going through the motions of life until magic happened to her. With the sudden change in her life, it's the most excitement she's had in years. We get very little of Blair's history in this installment, but the author sprinkles just enough throughout to ensure more is to come, and I'm convinced there are surprises in store!
SPA puts Blair up at a local Inn for supernaturals that are in limbo, and since Blair can't control when she turns into a cat (it happens anytime she gets scared,) it's the perfect place for her for now. There is a fun cast of characters in this book: Harmony is a fellow supernatural living at the Inn as well as Holly, Adam, and their two children, who Blair can't help but envy, as they're already learning how their magic works. They welcome her immediately, and I loved how the female friendships in this book were so genuine. The women were instantly there for each other and had a lot of fun together. I really enjoyed reading about them. Also, the atmosphere in this story was very well done. It was my first cozy mystery, but it really set the bar high for ones to come. From the Inn where Blair is staying to the supernatural Haven world she walks into with her friends, the descriptions were so spot on I could picture everything. There's also a romance blossoming here, and like Blair's history, I think it's going to ramp up with each book. I am so looking forward to it!
I picked up WITCHES IN THE KITCHEN because it fit a Book BINGO prompt for me, and I am thrilled to say this read really panned out! Not only am I eagerly awaiting the next book in this series, but I've also already gone back and started the previous one!
Audiobook Narration: Amanda Ronconi narrates WITCHES IN THE KITCHEN, and if you're familiar with her work, you don't need me to tell you what a spectacular job she does. She manages to capture the atmosphere of the story as well as the characters, and I always enjoy her interpretation. Another narrator I can't recommend enough!
SUMMARY
A magical inn bursting with paranormal delight. A picture-perfect seaside town filled with humans who don't know about their witchy neighbors. This cozy fantasy series has mystery, magic, and a splash of romance!
Up until a week ago, my only knowledge of magic came from the movies. Unfortunately, it didn't stay that way.
A bout of insomnia leads to witnessing a scene that belongs in a vampire flick—only, the fangs looked way more realistic. One second, I was running for my life, and the next, I found myself choking on a hairball in the back of an SUV.
That's right … a hairball. See, my body's been hiding a pretty big secret, and I'm some kind of witch. One that turns into a cat when under duress.
Apparently, my choices are fight, flight, or … fur.
Overnight, I find myself thrust into a world of magic and mayhem beyond my most wild sleep-deprived delirium. Until the murderous vampire is captured, I'm placed into some kind of witch-ness protection program, and sent to live in a house full of actual monsters.
What's the worst that could happen?
Hey, at least running for my life will help me squeeze in my cardio.
---
What do you think about this review?
Comments
1 comment posted.
Re: What a delightful surprise WITCHES IN THE KITCHEN was; I cannot wait to read more from this author!

good
(Yoga Wang 8:57am May 15)
Registered users may leave comments.
Log in or register now!