"The Glass Witch is a fun read for readers young and old to usher in the Halloween season!"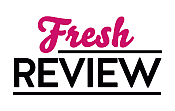 Reviewed by Angie Elle
Posted November 8, 2022

Lindsay Puckett's debut novel, THE GLASS WITCH, tells Adelaide Goode's story. In a family of witches, Adelaide can't tap into her power, and it pushes her further into feeling unworthy. But when she and her mother return to Cranberry Hollow, an opportunity arises for Adelaide to try and prove herself.
The Glass Witch was a fantastic story of family and finding yourself. It's a great reminder to adults how children internalize how they are treated, even when you aren't treating them that way with malicious intent. Addie saw her mother's dismissiveness as a lack of love for her, and it hit my heart to see Addie treated that way. The characters here were wonderful and nuanced. The women in Addie's life were a wreck, but who isn't? The family drama felt authentic, and I loved the introduction of Addie's newish old friend Fatima, a monster-loving girl who is loyal no matter the stakes. I was pleasantly surprised that the author even threw in a plot twist I didn't see coming, as I was sure I knew what was in store for me! I also love the time constraints on the curse Addie was working against. It really ratcheted up the pacing of the book and made it such a thrilling read.
I first discovered Lindsay on YouTube as she shared her author journey. (Not to worry - she has no idea who I am!) I was excited when she sold her first book, and I'm happy to be able to support her. THE GLASS WITCH was such a fun story, and I can't recommend it enough to both young and old readers. This is a perfect October read, and I can't wait to see what Lindsay comes up with next!
SUMMARY
Her bones are glass, but her heart is magic.
Adelaide Goode has never been good enough. Everyone knows she's the weakest witch born to the Goode family in centuries. And now her mom is betraying her in the worst possible way: abandoning her in Cranberry Hallow, where she has no friends at all, for three whole months! And she's pushing her to compete in the town Halloween pageant!
If Addie is going to be stuck in this town, her mother won't get away so easy…so she sets off the curse that's been haunting her family for centuries. But she doesn't plan on the curse turning her bones to glass and setting a 300-year-old witch hunter after her.
With the aid of a monster-obsessed neighbor and a twitchy-nosed, furry friend, Addie must hunt down the ingredients necessary to break the curse before the stroke of midnight. And if she doesn't…she might just erase magic from her family, and her town, forever.
---
What do you think about this review?
Comments
No comments posted.

Registered users may leave comments.
Log in or register now!