"Sea Glass Summer was all romance and heart. I already can't wait to read it again!"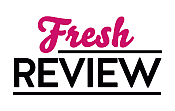 Reviewed by Angie Elle
Posted June 27, 2022

Romance Contemporary | Women's Fiction Family Life
SEA GLASS SUMMER by Miranda Liasson brings us the story of Kit and Alex. Kit is a widow who is doing her best to raise her son, Ollie, and make a good life for them after losing her husband. Alex returns to Seashell Harbor to help his best friend's widow repair the house they were supposed to renovate together in an effort to ease his guilt about the loss. Kit and Alex were such fantastic characters. They were both so well developed and layered. I loved the evolution of their relationship - the angst and craving on both sides, the guilt over betraying Kit's late husband - I couldn't get enough of it. I also adored Ollie and all the pets. (Courtesy of Hadley from the first installment of Seashell Harbor, of course.) While I did enjoy Kit's role in those relationships, it was seeing Alex's relationships develop with her son and pets that really warmed my heart. He loved his best friend's son so much, and it really was delightful to witness their budding relationship. All the characters from the previous installment were here, and I am totally on board for Darla and Nick's story, which I am assuming will be next. I'm also interested to see how Hadley and Cam's wedding will happen. I have my thoughts, but I'm excited to read what will actually happen!
Full disclosure - Miranda Liasson is one of my favorite authors. Her stories are full of the romance I crave when I pick up the genre, and the towns she creates are places I want to live. Sea Glass Summer gave me both of those things and more. The military man who loses his best friend and then falls for his widow is one of my favorite tropes. It's like catnip for me - I could read it all day every day.
SEA GLASS SUMMER was such a spectacular read. I can't recommend it enough to romance readers. I know it's a book I'll be rereading again and again!
SUMMARY
Kit Blakemore is ready to live again. After her husband died while serving in the military, she was in a haze of grief. Now she wants to reclaim her former self—finish her degree and find a better career to provide for their sweet little boy, Oliver. To do that, she'll need to sell her late husband's dilapidated Victorian in Seashell Harbor. But first, Kit intends to give Ollie the kind of unforgettable seaside summer she had growing up, making lifelong memories and friendships.

Of course, nothing goes exactly as she planned. Ollie is struggling with his confidence, and frankly, so is Kit. But everything changes when her husband's best friend, Alex de la Cruz, returns to town, offering to help her renovate. She doesn't expect Alex to temporarily move in…or for him to bond with Ollie…or for her numb heart to begin thawing. Slowly he's helping Kit and Ollie heal, and it scares her to death.

Kit swore she wouldn't leave herself open to the pain of loss again. But if she's going to teach her son to be brave and move forward, Kit must first face her own fears.
Excerpt
Kit was just texting back when she heard pounding. Harsh, metal-biting-rock kind of pounding. The distinct, sharp chink of a heavy implement repeatedly splitting stone, echoing through the early morning quiet. She rose from the peeling old chair and carefully walked down the crooked back porch steps, along the side of the house and around the tangled, overgrown shrubbery and low-hanging tree branches. All of which gave her plentiful cover as she cautiously rounded the front, hovering her finger over the final 1 in 911, just in case. What she saw made her gasp.
A shirtless man was taking a sledgehammer to the already-crumbling steps. And the sight stopped her dead in her tracks.
It wasn't the awful steps that drew her attention or the enormous sledgehammer glinting in the morning light as he ripped out the old mortar and cracked sandstones that were scattered all about.
A flush of heat rose all through her as she noted the fine smooth lines of tensing muscle, the elegant movements, his lean but strong build. Whoever this man was, he moved with a confident fluidity, with a grace akin to a dancer, and it was mesmerizing.
Lift the hammer, swing down hard—chink went the stone. Another lift and repeat.
No wonder his shirt was off. He was probably burning a thousand calories a minute. Bet his friends didn't have to drag him out of bed to force him to jog three miles on a chilly morning.
Also, he was way too hot to be cold.
She laughed at the silly joke. It wasn't like her to be giddy. Well, the old Kit would've been, for sure. A sense of relief rushed through her that maybe her old self really was in there somewhere.
Also…her ovaries were still clearly functioning.
Suddenly, the man straightened up. She watched as he ran the back of his hand along his forehead. Then he turned, his expression foreboding, brows drawn down over dark eyes.
Busted.
A shock reverberated clear through her as recognition hit. His pitch-black hair was wavy and longish now, grown out from the high-and-tight military cut when she'd seen him last. And his skin wasn't tan—that illusion came from his natural Latino coloring. She forced herself to look directly at him. But the intensity of his dark gaze wasn't any less calming.
Alex de la Cruz. Here, working on Carson's house. Despite the fact that she'd told him thanks but no thanks. A quick scan showed a shiny black pickup sitting in the driveway. She hadn't seen it since they'd jogged along the coastline and approached from the backyard.
He took in her leggings, Carson's old sweatshirt, and her multicolored knit cap with dual pom-poms, a gift from Ollie last Christmas. She saw the moment recognition widened his eyes—and he looked about as pleased as she was.
"Hello, Katherine," he said, his voice deep and as calm as if they met passing on the street. It sounded mocking because no one had called her Katherine since she'd gotten detention in high school for passing notes in Lit class.
Come to think of it, he'd been the one she'd gotten in trouble with for that. They'd also been chem lab partners, and they'd joked around and had fun. In the days before he'd developed a branch up his butt.
He might as well have called her Mrs. Blakemore for all the formality brimming in the deep baritone of his voice.
He'd always been a little odd. When Carson was around, Alex rarely even glanced at her, giving the air of barely being able to tolerate her. She'd written it off as him being one of those men who simply didn't "see" women—as equals, anyway. Still, she'd put up with him because Carson had loved him.
Anger welled up. Because besides ignoring the fact that she'd told him not to come, he was doing things to Carson's house uninvited. Actually, worse than that. In defiance.
"Hello, Alex," she managed as she struggled to choke down her fury. "What are you doing here?"
---
What do you think about this review?
Comments
No comments posted.

Registered users may leave comments.
Log in or register now!