"THE PARIS APARTMENT will keep you on the edge of your seat until the very end."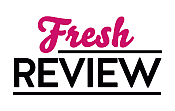 Reviewed by Angie Elle
Posted May 5, 2022

Suspense Psychological | Thriller Historical
THE PARIS APARTMENT brings us Jess's story; when she shows up at her brother's Paris apartment, she's surprised to find he's nowhere to be found despite expecting her arrival just a short time ago. She's in awe of his new digs - but hasn't that always been the way for Ben? Things have just always seemed to work out for him.
As a Mystery/Thriller fan, of course, Lucy Foley has been on my TBR for some time now. And I had my first taste of her writing with this one. I can see why she's so well-loved in the genre. Her writing is so easy to read, and the characters are fantastic. This story includes characters I can sympathize with as well as characters I love to hate. And I love 'love to hate' characters in Mystery/Thriller. That's probably why this one was such a win for me. I especially liked Jess's tenacity and grit. I loved her devotion to Ben even through her envy and longing. As for the other characters, I thought the cast was so interesting and loved discovering how they might have a motive for interfering in Ben's life. The pacing was great; chapters weren't very long, and there were a lot of points of view. I was never confused about whose head I was in, though. I also liked the backdrop of Paris and Jess navigating the city.
There were so many twists and turns, and just when you think you have something figured out, a new one hits you. The atmosphere could have been played up a bit to give it a more spooky aura, and I did find the end to be quite incredible. But I really appreciated it and found it satisfying. I love the way the storylines in THE PARIS APARTMENT all came together in the end, and I think this one will keep you guessing until the last page!
SUMMARY
Jess needs a fresh start. She's broke and alone, and she's just left her job under less than ideal circumstances. Her half-brother Ben didn't sound thrilled when she asked if she could crash with him for a bit, but he didn't say no, and surely everything will look better from Paris. Only when she shows up – to find a very nice apartment, could Ben really have afforded this? – he's not there.
The longer Ben stays missing, the more Jess starts to dig into her brother's situation, and the more questions she has. Ben's neighbors are an eclectic bunch, and not particularly friendly. Jess may have come to Paris to escape her past, but it's starting to look like it's Ben's future that's in question.
The socialite – The nice guy – The alcoholic – The girl on the verge – The concierge
Everyone's a neighbor. Everyone's a suspect. And everyone knows something they're not telling.
---
What do you think about this review?
Comments
No comments posted.

Registered users may leave comments.
Log in or register now!