"A fantastic novel exploring what "romance" really means..."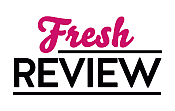 Reviewed by Jennifer Rummel
Posted June 10, 2021

Annie travels to Seattle to see her best friend. Unbeknownst to her, Darcy's taken a long weekend trip with her girlfriend Elle (the couple from WRITTEN IN THE STARS). Luckily, Darcy's brother Brendon is there to save the day with Darcy's apartment key and dinner.
Growing up, Brendon had a massive crush on Annie. When he sees her again, those feelings come rushing back. But Annie's different; she doesn't believe in romance. Brendon sees that as a challenge to prove her wrong and sets out to woo her. Brendon and Darcy hatch a plan to persuade Annie to move to Seattle. Annie's not happy in her job, although she has a promotion and is set to move to London. Darcy can't bear the thought of Annie moving even further away. She vows to be a better friend and would love having Annie closer.
Will this new relationship, years in the making, blossom into something more?
HANG THE MOON by Alexandria Bellefleur is the second book in a planned trilogy surrounding a friend group. It's great seeing familiar characters from the first book and following their love story even though they are no longer the main characters. The readers see a little bit of Annie and Brendon in the first book, but in this book, they take center stage.
Annie and Brendon have a history, but they haven't seen each other in years. They get to know each other again as they explore the city of Seattle together, both the touristy areas and off-the-beaten-path places. They have several discussions about what romance means. Are big gestures romantic? Is it more romantic to show your love in lots of little ways?
A fantastic second book in the trilogy that can stand alone, although readers will get more from the story having read WRITTEN IN THE STARS. Readers will eagerly look forward to the final book in the trilogy.
SUMMARY
In a delightful follow-up to Written in the Stars, Alexandria Bellefleur delivers another #ownvoices queer rom-com about a hopeless romantic who vows to show his childhood crush that romance isn't dead by recreating iconic dates from his favorite films...
Brendon Lowell loves love. It's why he created a dating app to help people find their one true pairing and why he's convinced "the one" is out there, even if he hasn't met her yet. Or... has he? When his sister's best friend turns up in Seattle unexpectedly, Brendon jumps at the chance to hang out with her. He's crushed on Annie since they were kids, and the stars have finally aligned, putting them in the same city at the same time.
Annie booked a spur-of-the-moment trip to Seattle to spend time with friends before moving across the globe. She's not looking for love, especially with her best friend's brother. Annie remembers Brendon as a sweet, dorky kid. Except, the 6-foot-4 man who shows up at her door is a certified Hot Nerd and Annie... wants him? Oh yes.
Getting involved would be a terrible idea—her stay is temporary and he wants forever—but when Brendon learns Annie has given up on dating, he's determined to prove that romance is real. Taking cues from his favorite rom-coms, Brendon plans to woo her with elaborate dates straight out of Nora Ephron's playbook. The clock is ticking on Annie's time in Seattle, and Brendon's starting to realize romance isn't just flowers and chocolate. But maybe real love doesn't need to be as perfect as the movies... as long as you think your partner hung the moon.
---
What do you think about this review?
Comments
No comments posted.

Registered users may leave comments.
Log in or register now!