"Falling in Love over food"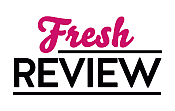 Reviewed by Jennifer Rummel
Posted November 21, 2019

Romance Contemporary | Holiday
Emery Monaghan's life blew up when her fiance is accused of sexual misconduct. Instead of standing by her man as his lawyer and her parents suggest, she flees. The press swarms her work and her residence, leaving no place safe. When an old family friend offers her help, she takes it, even though it means working with her high school nemesis.
Carter Montgomery doesn't have time to devote to his mother's project. He's desperately trying to get his third restaurant up and running. It's not coming together. He has no desire to put together a celebrity cookbook for charity. But he can't say no to his mother. He sends along some recipes and calls it a day. Little does he know, his mother hired Emery to step in and guide the project. After scaring each other half to death, the two come to an agreement. They must find a way to put aside the past to work together in the present.
A DASH OF CHRISTMAS is the tenth book in the Montgomery Brothers series. While this book can be read as a standalone, it's better to read the books in order as favorite characters do show up with good news. The Montgomery siblings did not have an easy time growing up with their blunt unimpressed father. Carter works every day towards impressing him, even if his father is no longer alive. Part of him can't help wish that he had closure. The other part fuels his life. He has no time for anything except work – until Emery pulls him out of his comfort zone. Emery's hiding from the world and trying to pick up the pieces of her life. She realizes that it's time for her to stand firm and figure out what she wants from life. She's no longer willing to let herself be pulled along. She must put herself first now. Luckily, she has this project to work on. Pushing Carter around has never been more fun. They're polar opposites when it comes to eating. He's fancy and she's a traditional comfort eater. But together, they influence and balance each other out. Over food, they talk about the past, their family drama, and the future.
SUMMARY
With a dash of Christmas magic...
Two people who have spent most of their lives being rivals...
Learn a little something about following their hearts...
Carter Montgomery broke the family mold when he went to culinary school. Now a successful restauranteur, he's at a crossroads: should he continue on his successful path or look for a new challenge? What he needs is time alone to think things through. But his matchmaking family has other ideas...
Emery Monaghan's no-good fiancé has embroiled her in scandal and she needs a way out. When mentor Eliza Montgomery offers her a refuge, she's relieved—until she realizes that the deal means rubbing elbows with Eliza's son Carter—Emery's childhood nemesis.
---
What do you think about this review?
Comments
No comments posted.

Registered users may leave comments.
Log in or register now!