"Vibrant, fresh, and super sexy. . ."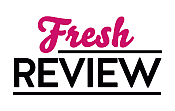 Reviewed by Danielle Dresser
Posted November 5, 2019

When Chloe Brown has a near-death experience and the life that flashed before her eyes was decidedly boring, she decides to stop letting her chronic pain and illness rule over her and makes a list of things to do to help her get a life. Even though her fibromyalgia can hinder things, Chloe is determined to start living – and starts by moving out of her parents' house and into her own apartment and then eventually start checking off her list, which includes things like "ride a motorbike," "go camping," and "do something bad."
"Something bad" comes in the form of Redford Morgan, a talented artist, and Chloe's building superintendent. Late at night, Chloe spies on Red across the apartment courtyard while he paints, usually shirtless. From the moment he meets Chloe, Red is certain she's an uptight and snobby rich girl who looks down on the likes of him. But when Chloe decides to save an adorably apathetic cat from a tree and Red comes to both their aid, welcome or not, she realizes that Red may be able to help her get said life and make her way through her list.
In exchange, Chloe, an accomplished web designer, will create a website for Red's artwork and career. After a thrilling motorbike ride and a drunken night out, Chloe and Red begin to put aside their initial assumptions about the other, and also learn how to truly open up to another person. Chloe tests the limits of her illness, but Red is there not just to take care of her, but also to support and uplift her. Red has a painful past which leads to his complicated relationship with his own art, and Chloe encourages him to jumpstart his career again.
Additionally, they both find someone they feel safe with. But when their feelings become too much to bear, can Chloe and Red make their lives work, so they can start a life together?
Vibrant, fresh, and super sexy. . . GET A LIFE, CHLOE BROWN by Talia Hibbert is a delightful and emotional contemporary romance. A self- proclaimed socially awkward nerd, Chloe Brown is a beautiful, black, overweight, chronically ill web designer and the type of romance heroine every reader will love and relate to immediately. She's snarky and sweet, wears teal glasses and proper cardigans, has a wonderful family (her two sisters will get their own books in the future), and has found her match in Red Morgan.
An accomplished artist, Red is a big, tattooed ginger who unnerves Chloe almost as much as she unnerves him. He can't help but be intrigued by the captivating Chloe, but he's been hurt before and doesn't want to let his guard down around her. It's so much fun watching these two develop a friendship that quickly leads to something more. Their chemistry is off-the-charts hot and the banter adorably witty and nerdy. However, what is most impressive might be the conversations that reveal Chloe and Red's past traumas, and how the other person learns from those past events. These are two people who have baggage, know they have it, and are willing to work on themselves in order to be able to fully love and care for someone else.
It's inspiring, heartwarming, and poignant to see how Chloe and Red learn to deal with their own issues and ultimately and deliciously fall in love completely. Hibbert's talent is obvious from page one – highly recommended!!
SUMMARY
Talia Hibbert, one of contemporary romance's brightest new stars, delivers a witty, hilarious romantic comedy about a woman who's tired of being "boring" and recruits her mysterious, sexy neighbor to help her experience new things—perfect for fans of Sally Thorne, Jasmine Guillory, and Helen Hoang.
Chloe Brown is a chronically ill computer geek with a goal, a plan, and a list. After almost—but not quite—dying, she's come up with seven directives to help her "Get a Life", and she's already completed the first: finally moving out of her glamourous family's mansion. The next items?
Enjoy a drunken night out.
Ride a motorcycle.
Go camping.
Have meaningless but thoroughly enjoyable sex.
Travel the world with nothing but hand luggage.
And... do something bad.
But it's not easy being bad, even when you've written step-by-step guidelines on how to do it correctly. What Chloe needs is a teacher, and she knows just the man for the job.
Redford 'Red' Morgan is a handyman with tattoos, a motorcycle, and more sex appeal than ten-thousand Hollywood heartthrobs. He's also an artist who paints at night and hides his work in the light of day, which Chloe knows because she spies on him occasionally. Just the teeniest, tiniest bit.
But when she enlists Red in her mission to rebel, she learns things about him that no spy session could teach her. Like why he clearly resents Chloe's wealthy background. And why he never shows his art to anyone. And what really lies beneath his rough exterior…
---
What do you think about this review?
Comments
No comments posted.

Registered users may leave comments.
Log in or register now!