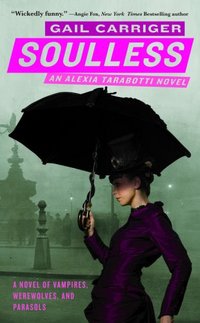 Soulless, October 2009
The Parasol Protectorate
by Gail Carriger

Orbit
Featuring: Alexia Tarabotti
384 pages
ISBN: 0316056634
EAN: 9780316056632
Mass Market Paperback
Add to Wish List

Purchase
"Witty, fun and hilarious Steampunk that is a must read!"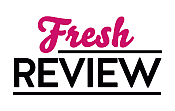 Reviewed by Kate Garrabrant
Posted September 21, 2009

Soulless is about Alexia Tarbotti, a twenty-six year old Victorian spinster who lives in London. Her deceased biological father was Italian and gave Alexia her long nose, dark looks and too many curves that are considered acceptable. She Alexia has a dark secret because of her father and is known as a preternatural, one who doesn't have a soul. Alexia has a heart and can feel emotions but because she has no morals, she uses reason and logic instead. As a preternatural, anytime Alexia touches a supernatural creature they lose their abilities.
Alexia's secret is about to come out because one night while she is at a ball, sitting alone in a library, she is attacked by a vampire. Alexia kills the vampire and pretends to faint and is found by her nemesis, Lord Maccon who is the fourth Earl of Woolsey who works for the Bureau of Unnatural Registry and also happens to be Scottish and the alpha to the Woolsey werewolf pack. It looks like something dastardly is at play that could uproot the whole supernatural community.
Armed with her parasol and good sense, Alexia will do some investigating of her own. Unfortunately, Alexia is in deeper trouble than she would have ever expected especially when the BUR offices are broken into. Lord Maccon also pops out of nowhere to protect her as well as kiss her senseless and dare to give her love bites around her neck for anyone to see.
Soulless is a rousing good time. The sights and sounds of Victorian England are shown so well here where you will be lost in the world of vampires, werewolves and mad scientists who have an obsession with octopuses. Not only is there a great deal of action but a wonderful romance between Alexia and Maccon that is too adorable for words. The mystery surrounding the supernatural disappearances is written so very well and you will be cheering for Alexia because she is the one to figure things out.
There are not many books I can recommend that will make you want to drop everything you are doing and run out to your nearest bookstore to buy. SOULLESS is one of them. This is one book that you must own. I am truly in awe of Gail Carriger's writing talent and she is a true superstar of the publishing world and because of her I have a new respect for the Steampunk genre.
Learn more about Soulless
SUMMARY
Alexia Tarabotti is laboring under a great many social tribulations. First, she has no soul. Second, she's a spinster whose father is both Italian and dead. Third, she was rudely attacked by a vampire, breaking all standards of social etiquette. Where to go from there? From bad to worse apparently, for Alexia accidentally kills the vampire -- and then the appalling Lord Maccon (loud, messy, gorgeous, and werewolf) is sent by Queen Victoria to investigate.
With unexpected vampires appearing and expected vampires disappearing, everyone seems to believe Alexia responsible. Can she figure out what is actually happening to London's high society? Will her soulless ability to negate supernatural powers prove useful or just plain embarrassing? Finally, who is the real enemy, and do they have treacle tart?
SOULLESS is a comedy of manners set in Victorian London: full of werewolves, vampires, dirigibles, and tea-drinking.
---
What do you think about this review?
Comments
No comments posted.

Registered users may leave comments.
Log in or register now!