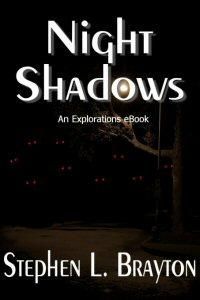 Purchase

February 2011
On Sale: February 16, 2011
Featuring: Lori Campisi; Harry Reznik
ISBN: 1590803469
EAN: 9781590803462
e-Book
Add to Wish List

Paranormal | Horror | Thriller Police Procedural
Des Moines Homicide detective Harry Reznik and F.B.I. agent, Lori Campisi, have their hands more than a little full when they team up to investigate a series of gruesome murders.
With life throwing them one obstacle after another, the unlikely pair has no choice but to put their personal issues aside as they battle malevolent creatures from another dimension. With everything to lose, they have no one but each other to count on in a wicked game of survival.
Comments
5 comments posted.
Re: Night Shadows

I enjoyed reading your blog, and I'm sure I'll enjoy reading your book as well. Being a person that was in sales for part of their life as well, I think that if you don't have confidence in yourself first, it will become a hindrance. Everyone has a sense of fear in their life, but if they let that fear overcome their confidence, it won't allow them to advance to the goals that they should achieve. You sound like a wonderful, engaging person, and I'm sure that with time you'll overcome the fear with each book you write, and become the person that is truly inside of you.
(Peggy Roberson 12:26pm March 6, 2011)
I wonder if the reason that people like horror and thrillers is to forget about the real fears in our lives. I remember hearing that the two greatest fears (as in things people hate to do) are public speaking and small talk (as in cocktail chatter).
(Carol Drummond 2:13pm March 6, 2011)
Thrillers tend to show the underworld life that we want no part of. Fear of the unknown, running out of gas, breaking down (transportation or personally) can make you stop in your tracks and detour around the obastacles and sometimes you are the one throwing them around by sabotaging your own efforts. So in effect, you're m aking it more impossible instead of facing fear and doing something productive about it and getting a plan. I thoroughly enjoy reading thrillers and am equally happy, my life isn't quite that way.
(Alyson Widen 4:22pm March 6, 2011)
Fear, anxiety welcome to my world. I'm happy your pushing thru!
(MaryEllen Hanneman 4:22pm March 7, 2011)
Acronyms are new words to me, but I've seen them used in catchy phrases like at seminars. Fear stops many form doing what they think they can't possibly do, but if they look at it from other angles, the scene gets less scary.
(Alyson Widen 12:13pm March 8, 2011)
Registered users may leave comments.
Log in or register now!