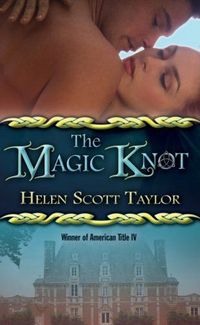 Purchase
A contemporary fantasy set in the English Westcounty and Ireland. combines the mystery of Celtic Cornwall with the myths of ancient Ireland in a contemporary setting to give a story full of romance and adventure. You'll never think of fairies the same.
The Magic Knot Fairies #1

February 2009
On Sale: January 27, 2009
Featuring: Rosenwyn Tremain; Niall O'Connor
320 pages
ISBN: 0505527960
EAN: 9780505527967
Mass Market Paperback
Add to Wish List

HE'S A BIKER WITH AN ATTITUDE
What woman wouldn't be attracted to Niall O'Connor's soft Irish brogue and dark good looks? But Rosenwyn Tremain must find her father, and she isn't going to let a sexy, stubborn Irishman and his motorcycle distract her. Rose's intuition tells her he's hiding something, a secret even the cards cannot divine. Her tarot deck always reads true, but how can one man represent both Justice and Betrayal?

SHE'S A WOMAN ON A MISSION
Magic. Niall's body tingles with it when he finds the woman snooping in his room. Rosenwyn might believe she's a no-nonsense accountant, but her essence whispers to him of ancient fairy magic that enslaves even as it seduces. Her heritage could endanger those he'd die to protect, but her powers and her passion, if properly awakened, might be the only thing that can save both their families, vanquish a fairy queen bent on revenge, and fulfill a prophecy that will bind their hearts together with…THE MAGIC KNOT
Comments
15 comments posted.
Re: The Magic Knot

Hi Helen! It's a pleasure to see you
blogging here today. Of course, the
day is almost over with!

Wait, I just realized that I am actually
early!! This should be a good day.

With regards to your question, I like
both settings, but it depends on the
paranormal creature. Mystical rural
settings make me think of fairies,
elves, sprites, and all those beautiful
woodland-type creatures, whereas
dark urban settings make me think of
vampires and werewolves. One deals
more with life, and the other with
death. Unless you've got a really
sinister fairy! Julie
(Julie Robinson 12:27pm January 30, 2009)
Hi Helen
Your book sounds great I'll be getting it.
All the best
Penney
(Penney Wilfort 10:08am January 30, 2009)
Hi Julie,
Thank you for taking time to leave me a comment about my blog.

You are right that rural settings lend themselves to fairies. That must be why I prefer that setting! Although I also like the idea of shape shifters in the wilder parts of the countryside. I can imagine shape shifters living on bleak moorland where no body would see them as they shifted and ran wild.

Helen
(Helen Scott Taylor 12:00pm January 30, 2009)
Hi Penney,
Thank you for stopping by to leave a comment. I'm delighted you like the sound of The Magic Knot. I love the fairy world!

Helen
(Helen Scott Taylor 12:01pm January 30, 2009)
With all the magical notes this sounds like a fastinating read!! I'm looking forward to it!
Thanks for sharing,
Darby
darbyscloset at yahoo dot com
(Darby Lohrding 12:59pm January 30, 2009)
I like the rural settings too. There is so much history in the world that it is just fascinating when you can read a story that brings some of that to it.
(Vicki Hancock 1:13pm January 30, 2009)
Hi Darby,
Thanks for stopping by to comment. Glad you like the sound of The Magic Knot!
Helen
(Helen Scott Taylor 1:25pm January 30, 2009)
Hi Vicki,
I agree with you; the history fascinates me as well. I love visiting historic houses. There are some lovely ones near my home in the English West Country. They fill me with inspiration.
Helen
(Helen Scott Taylor 1:27pm January 30, 2009)
Well, that's true, Helen. After all,
Dracula was in a castle away from the
village. And I do like the idea of
shapeshifter cats and wolves running
wild in the moorland. Hmmmm, next
story perhaps?
Julie
(Julie Robinson 1:28pm January 30, 2009)
I like your idea of using various settings for different types of special people(?) I am a little tired of being politically correct, but what do you call a shapeshifter when it shifts shape?
(Karin Tillotson 1:55pm January 30, 2009)
Hi Karin,
I guess the terminology used to describe a shape shifter and the process of shifting depends on the story. Different authors call them different things. The last shape shifter book I read was by Nalini Singh. I'm sure she had a special term for when they shift shape, but I can't remember at the moment.

BTW, if you haven't read Nalini Singh's books, I recommend them.
(Helen Scott Taylor 3:33pm January 30, 2009)
I prefer the rural setting. It sort of
gives more magical leeway to the plot.
Cities give a more gritty hard feeling
to a story. Lets face it, misty moors,
cobbled villages, shadowed forests
and flowered meadows are wonderful
settings for romance and magic - no
matter what the year.
(Patricia Barraclough 8:41pm January 30, 2009)
Hi Patricia,

You're right. The choice of rural or urban setting gives a whole different feel to a book. I definitely prefer the mystical rather than the gritty.
Helen
(Helen Scott Taylor 6:44am January 31, 2009)
I would love to win an autographed copy of this book. Please enter me in the contest.
Thanks,
Lorraine
moml1@cox.net
(Lorraine Larose 3:45pm February 3, 2009)
Wow! Now your giving us presents! *sniff* Thank you!

Hope you have a great Holiday season!
(Victoria Colyer-Kerr 12:13pm November 30, 2010)
Registered users may leave comments.
Log in or register now!