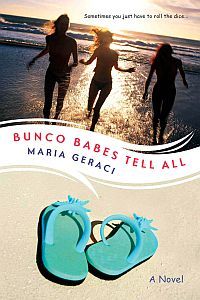 Purchase

May 2009
On Sale: May 5, 2009
336 pages
ISBN: 0425227588
EAN: 9780425227589
Trade Size
Add to Wish List

Romance Contemporary | Contemporary Chick Lit
Woman cannot live by Bunco alone.
Meet the Bunco Babes of Whispering Bay in BUNCO BABES TELL ALL. Every Thursday night they roll dice, drink frozen margaritas, and catch up on all the gossip in their small north Florida town. Kitty Burke is the only Bunco Babe who is still single—which is okay—but she's thirty-five and may need to face the fact that her image of Mr. Right is all wrong.
Take Steve (the "handyman"). Very sexy—but on paper, with three failed marriages and a shady career, maybe not great husband material. And, yes, his ring tone is "Freebird." Certainly fellow Babes Shea and Pilar vote thumbs down. But maybe there's more to Steve than meets the eye (which is considerable). Is it time for Kitty to take a chance and hope that she can be as lucky in love as she is at Bunco?
Comments
23 comments posted.
Hi Maria, it sound like your book would have a lot of humor in it and I really enjoy books like that. I can't say I have ever heard of Bunco but it sounds interesting.
(Gail Hurt 1:54am May 6, 2009)
This book sounds amazingly intresting I cant wait to get my own copy even if I dont win.
(Tabatha Basham 2:19am May 6, 2009)
What a delightful and unique book which appeals to me greatly. Best of success.
(Sharon Berger 10:44am May 6, 2009)
I've not played bunco but I have a friend who has a regular party. She's says it's a blast!
(LuAnn Morgan 12:36pm May 6, 2009)
Congrats on your debut novel!!I have never played bunco...but my family used to play a lot of Yatze. Lately we have been playing Canasta. The books sound like a lot of fun!
(Martha Eskuchen 12:56pm May 6, 2009)
I have a friend that plays Bunco & loves it! This series sounds wonderful!!
(Kelli Jo Calvert 1:10pm May 6, 2009)
I used to play bunco with a bunch of friends a few years ago and enjoyed it. We had a great time playing once a month and getting together!
(Teresa Warner 1:11pm May 6, 2009)
I love the title of your book. I play a little Bunco myself and think the book would be a great gift to fellow bunco players.
(Josie Roetemeyer 1:22pm May 6, 2009)
I'd love to learn to play Bunco. Have a great day.
(Roberta Harwell 1:26pm May 6, 2009)
If Bunco is half as much fun as Maj Johng I'm so there!
(Norma Storms 3:32pm May 6, 2009)
I have never played Bunco but it sounds like fun.
(Maureen Emmons 3:47pm May 6, 2009)
My sisters play but I haven't. Sounds like a lot of fun!
(Mary Hundley 3:47pm May 6, 2009)
Hmmm,seems I remember this term as a police code for gambling and wild times.....yup,I'm in!
(Dawn Raymer 4:46pm May 6, 2009)
this sounds like a great book...a former Bunco babe here myself!
(Paula Staton 6:57pm May 6, 2009)
Never played and as Dawn said, I
remember it being used in police
terminology. Sounds interesting and
fun. Good luck.
(Patricia Barraclough 9:28pm May 6, 2009)
Bunco is so much fun! I tried it for the first time at your RT party, and am now totally hooked. Maybe I should start a group in my town...
(Louisa Edwards 9:54am May 8, 2009)
I have heard of Bunco groups but have never played it. Tell all from these groups probably takes on a new meaning, lol.
(Robyn Lee 11:52am May 9, 2009)
I love Bunco! I'm from a HUGE family, and it's a great way to bond over generations! Some of my fondest memories of my Great-Aunt Nancy are of Bunco!
(Angela Hoagland 4:56pm May 14, 2009)
I love books with humor in them and your book sounds like it does. It will be a good-read.
(Patsy Hagen 2:51pm May 19, 2009)
Maria, I just finished Bunco Babes, and it's FABULOUS. I laughed. I cried. I cheered. Absolutely a must-read.
(Leigh Duncan 10:01am June 12, 2009)
Hi, have been wanting to read this book. Soundsa like a hoot!
(JoAnn White 9:58am September 14, 2009)
This book had me laughing out LOUD. Highly recommend it. You'll want to grab a snack cuz it gives you the munchies like you wouldn't believe. AND keep the phone handy, you'll be calling a gal pal to giggle over a passage or two together.
(Rebecca Arnold 3:45pm September 14, 2009)
Thanks so much for selecting my book as a Fresh Pick!
(Maria Geraci 2:16am September 15, 2009)
Registered users may leave comments.
Log in or register now!