Newt Gingrich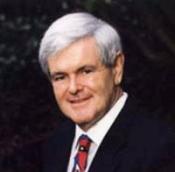 NEWT GINGRICH is the author of several bestselling books, including Gettysburg and Grant Comes East. Mr. Gingrich served in Congress for twenty years and is a former Speaker of the House, in which capacity he was named Time magazine's Man of the Year in 1995. He is a member of the Defense Policy Board and the U.S. National Security Commission, and he is the longest-serving teacher of the Joint War Fighting course for Major Generals. He is also the CEO of the Gingrich Group, a communications and consulting firm. Mr. Gingrich resides in Virginia with his wife, Callista. He has two daughters and two grandchildren.
Log In to see more information about Newt Gingrich
Log in or register now!
Series
Books:
Understanding Trump, June 2017
Hardcover / e-Book
Duplicity, April 2017
Mass Market Paperback
Should We Tax the Rich More?, December 2013
Paperback
Breakout, November 2013
Hardcover / e-Book
The Battle Of The Crater, November 2011
Hardcover / e-Book
Valley Forge, November 2010
Hardcover
To Save America, May 2010
Hardcover
To Try Men's Souls, October 2009
Hardcover
5 Principles for a Successful Life, May 2009
Hardcover
Drill Here, Drill Now, Pay Less, October 2008
Hardcover
Days of Infamy, May 2008
WWII
Hardcover
Real Change, January 2008
Hardcover
A Contract with the Earth, October 2007
Hardcover
Pearl Harbor, May 2007
Book One of the Pacific War Series
Hardcover
Rediscovering God in America, October 2006
Hardcover
Never Call Retreat: Lee & Grant, Final Victory, June 2005
Civil War Trilogy #3
Hardcover
Winning The Future, January 2005
Hardcover