Kurt Vonnegut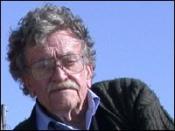 Kurt Vonnegut, Jr. (born November 11, 1922) is an American novelist, satirist, and most recently, graphic artist. He was recognized as New York State Author for 2001-2003.
He was born in Indianapolis, the setting for many of his novels. He attended Cornell University from 1941 to 1943, where he served as an opinions section editor for the student newspaper, the Cornell Daily Sun. Vonnegut trained as a chemist and worked as a journalist before joining the U.S. Army and serving in World War II. He is a combat infantry veteran and holds a Purple Heart.
After the war, he attended the University of Chicago as a graduate student in anthropology and also worked as a police reporter at the City News Bureau of Chicago. He left Chicago to work in Schenectady, New York, in public relations for General Electric. He attributed his unadorned writing style to his reporting work.
His experiences as an advance scout in the Battle of the Bulge, and in particular his witnessing of the bombing of Dresden, Germany, while a prisoner of war, would inform much of his work. This event would also form the core of his most famous work, Slaughterhouse-Five, the book that would make him a millionaire. This acerbic 200-page book is what most people mean when they describe a work as "Vonnegutian" in scope.
Vonnegut is a self-proclaimed humanist and socialist (influenced by the style of Indiana's own Eugene V. Debs) and has recently done a print advertisement for the American Civil Liberties Union. He is also a notable world federalist.
From 1970 to 2000, Vonnegut lived in an East Side Manhattan brownstone, with his wife, the renowned photographer Jill Krementz. On January 31, 2000, a fire destroyed the top story of his home. Vonnegut suffered smoke inhalation and was hospitalized in critical condition for four days. He survived, but his personal archives were destroyed, and after leaving the hospital he retired to Northampton, Massachusetts. He taught an advanced writing class at Smith College for a period in 2000.
Log In to see more information about Kurt Vonnegut
Log in or register now!
Series
Books:
Kurt Vonnegut, May 2011
Hardcover
Armageddon in Retrospect, April 2008
Hardcover
A Man Without A Country, September 2005
Hardcover
Breakfast of Champions, May 1999
Paperback
Slapstick: Or Lonesome No More!, May 1999
Paperback
Palm Sunday, May 1999
Paperback
Deadeye Dick, May 1999
Paperback
Mother Night, May 1999
Paperback
Player Piano, January 1999
Trade Size (reprint)
Wampeters, Foma & Granfalloons, January 1999
Paperback
Galapagos, January 1999
Paperback
Slaughterhouse-Five, January 1999
Paperback
Jailbird, January 1999
Paperback
Welcome to the Monkey House, September 1998
Trade Size (reprint)
Bluebeard, September 1998
Paperback
God Bless You, Mr. Rosewater, September 1998
Paperback
The Sirens of Titan, September 1998
Paperback
Cat's Cradle, September 1998
Paperback
Timequake, August 1998
Paperback
Hocus Pocus, October 1997
Paperback
Fates Worse Than Death, September 1992
Paperback
Slaughterhouse-Five, November 1991
Paperback (reprint)