Tim LaHaye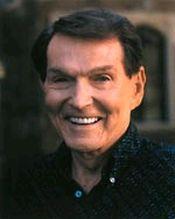 Dr. Tim LaHaye is a noted author, minister, counselor, and nationally recognized speaker on Bible prophecy. Co-author of the Left Behind series, it was LaHaye's idea to fictionalize an account of the Rapture and the Tribulation.
LaHaye is the founder and president of Tim LaHaye Ministries and the founder of the PreTrib Research Center. Currently, LaHaye speaks at many of the major Bible prophecy conferences in the United States and Canada.
For 25 years LaHaye pastored one of the nation's outstanding churches in San Diego, California, which grew to three locations. During this time, he also founded two accredited Christian high schools, a school system of 10 Christian schools and Christian Heritage College, and assisted Dr. Henry Morris in the founding of the Institute for Creation Research, the nation's foremost exponent of creationist materials.
LaHaye has written more than 45 books on a wide range of subjects such as family life, temperaments and Bible prophecy. One of his bestsellers from Tyndale House Publishers is The Spirit-Controlled Temperament. His current novels, the Left Behind series, co-authored with Jerry B. Jenkins, are the all-time best-selling Christian fiction series. Five books in the series—The Indwelling, The Mark, Desecration, The Remnant, and Armageddon—debuted at number one on the best-seller lists for The New York Times, USA Today, Publishers Weekly, and The Wall Street Journal, with Desecration attaining the status of top- selling hardcover book for 2001. Series sales have exceeded 57 million copies, including Left Behind: The Kids series and audio products. The highly anticipated twelfth book, Glorious Appearing, will release in Spring 2004.
LaHaye originated the idea of a novel about the Second Coming. "Sitting on airplanes and watching the pilots," he told People magazine, "I'd think to myself, 'What if the Rapture occurred on an airplane?'" LaHaye looked for a co- writer for several years and was then introduced to Jerry B. Jenkins through their mutual agent, Rick Christian, president of the Colorado Springs literary agency, Alive Communications, who also negotiated the book deal.
LaHaye holds a Doctor of Ministry degree from Western Theological Seminary and has been awarded the Doctor of Literature degree from Liberty University.
LaHaye's wife, Beverly, is founder and chairman of the board of Concerned Women for America. The Atlanta Journal Constitution referred to the LaHayes as the "Evangelical Power Couple."
Log In to see more information about Tim LaHaye
Log in or register now!
Series
Books:
Left Behind: A Novel of the Earth's Last Days, March 2011
Paperback (reprint)
Mark's Story, February 2009
The Gospel According to Peter
Trade Size
Kingdom Come, April 2007
Left Behind
Hardcover
John's Story: The Last Eyewitness, December 2006
The Jesus Chronicles
Hardcover
The Edge of Darkness, August 2006
Babylon Rising - Book 4
Hardcover
The Rapture, June 2006
Left Behind
Hardcover
The Regime, November 2005
Evil Advances - Before They Were Left Behind, Book 2
Hardcover
Nicolae: The Rise of Antichrist, June 1998
Left Behind #3
Trade Size
Tribulation Force: The Continuing Drama of Those Left Behind, March 1997
Left Behind (#2)
Trade Size
Left Behind, April 1996
Left Behind #1
Trade Size (reprint)