William Kent Krueger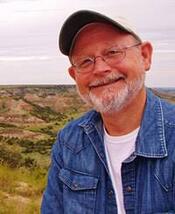 Raised in the Cascade Mountains of Oregon, William Kent Krueger briefly attended Stanford University—before being kicked out for radical activities. After that, he logged timber, worked construction, tried his hand at free-lance journalism, and eventually ended up researching child development at the University of Minnesota. He currently makes his living as a full-time author. He's been married for over 30 years to a marvelous woman who is an attorney. With his wife and two children, he makes his home in St. Paul, a city he dearly loves. Krueger writes a mystery series set in the north woods of Minnesota. His protagonist is Cork O'Connor, the former sheriff of Tamarack County and a man of mixed heritage—part Irish and part Ojibwe. His work has received a number of awards including the Minnesota Book Award, the Loft-McKnight Fiction Award, the Anthony Award, the Barry Award, and the Friends of American Writers Prize. The sixth book in his series, Copper River, is scheduled for release in August 2006. He does all his creative writing in booth #4 at the renowned St. Clair Broiler in St. Paul.
Log In to see more information about William Kent Krueger
Log in or register now!
Series
Books:
The River We Remember, September 2023
Hardcover
Fox Creek, June 2023
Trade Paperback / e-Book (reprint)
Fox Creek, September 2022
Cork O'Connor Mystery Series # 19
Hardcover / e-Book
Lightning Strike, July 2022
Cork O'Connor Mystery Series # 18
Trade Size / e-Book
Lightning Strike, September 2021
Cork O'Connor Series #18
Hardcover / e-Book
Iron Lake, February 2021
Cork O'Connor Mystery Series #1
Mass Market Paperback / e-Book (reprint)
Desolation Mountain, September 2018
Hardcover
Northwest Angle, September 2011
Cork O'Connor #11
Hardcover
Vermilion Drift, September 2010
Cork O'Connor #10
Hardcover
Thunder Bay: A Novel, August 2009
Paperback
Blood Hollow, August 2009
Paperback
Red Knife, September 2008
Cork O'Connor mystery #9
Hardcover
Thunder Bay, August 2007
A Cork O'Connor Mystery, #7
Hardcover
Copper River, July 2007
A Cork O'Connor Mystery
Mass Market Paperback (reprint)
Copper River, August 2006
A Cork O'Connor Mystery
Hardcover