Sharon Kendrick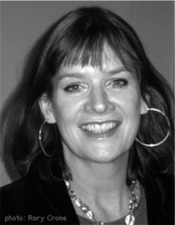 Sharon Kendrick has been writing stories for as long as she can remember and completed her first book at the age of 11! It featured identical twins fighting evil at their boarding school, but — sadly — this early manuscript has been lost.
Sharon wanted to be a journalist and so enrolled in a secretarial course to learn shorthand and typing, but life kind of got in the way and she drifted in and out of a succession of jobs. She has been a waitress, a cook, a dancer, and a photographer. She has worked in shops and sung in bars. Sharon even qualified as a nurse and drove an ambulance across the Australian desert!
When she settled down and married her dashing doctor, she decided life was not a rehearsal and that if she wanted to write a book, she'd just have to sit down and do it. Not easy with a lively toddler and a six-month-old baby while living in a tiny apartment. But she did it, and Nurse in the Outback was born, and accepted by Mills & Boon without any changes.
Since then Sharon has gone on to write many books for Mills & Boon and they have been published worldwide. She adores writing romance and considers herself lucky to have the best job in the world! It is a fantastic way to spend a day — inventing gorgeous heroes and complex, interesting women and charting all the ups and downs, the highs and lows of their relationships until they are really ready to let love into their hearts.
Sharon intends to carry on writing forever — and why not? For what greater pleasure could be gained than when a reader writes to tell you that you moved her to laughter and tears?
What Sharon values most is feedback from readers — a letter about a book makes it all worthwhile — and she loves to hear from the people she is writing for. Alternatively, if a reader tells her what they don't like reading, then that is enormously useful, as well.
Log In to see more information about Sharon Kendrick
Log in or register now!
Series
The Billionaire's Legacy
Books:
Innocent Maid for the Greek, February 2023
Mass Market Paperback / e-Book
Stolen Nights with the King, July 2022
Passionately Ever After... # 2
Mass Market Paperback / e-Book
Penniless and Pregnant in Paradise, March 2022
Jet-Set Billionaires # 1
Hardcover / e-Book
Confessions of His Christmas Housekeeper, November 2021
e-Book
Secrets of Cinderella's Awakening, July 2021
Paperback / e-Book
The Sheikh's Bought Wife, April 2017
Paperback / e-Book
Di Sione's Virgin Mistress, October 2016
The Billionaire's Legacy #5
Paperback / e-Book
The Sheikh's Christmas Conquest, November 2015
Paperback / e-Book
Christmas in Da Conti's Bed, November 2014
Paperback / e-Book
Monarch of the Sands, February 2012
Paperback / e-Book
The Prince's Chambermaid, May 2010
Mass Market Paperback
The Italian Billionaire's Secretary Mistress, January 2010
Mass Market Paperback
Constantine's Defiant Mistress, October 2009
Mass Market Paperback
The Playboy Sheikh's Virgin Stable-Girl (Harlequin Presents), August 2009
Mass Market Paperback
Bought For The Sicilian Billionaire's Bed, January 2009
Mass Market Paperback
Sicilian Husband, Unexpected Baby, November 2008
Italian Husbands
Mass Market Paperback
The Greek Tycoon's Convenient Wife, July 2008
Greek Billionaires' Brides
Mass Market Paperback
The Greek Tycoon's Baby Bargain, June 2008
Greek Billionaires' Brides
Paperback
Accidentally Pregnant, Conveniently Wed, April 2008
Expecting!
Paperback
Italian Boss, Housekeeper Bride, December 2007
In Bed With The Boss
Paperback
The Billionaire Bodyguard, August 2007
Paperback
The Desert King's Virgin Bride, May 2007
Miniseries: The Desert Princes
Paperback
The Sheikh's Unwilling Wife, April 2007
Miniseries: The Desert Princes
Paperback
The Sheikh's English Bride, March 2007
Miniseries: The Desert Princes
Paperback
Bedded for Revenge, December 2006
Miniseries: Red-Hot Revenge
Paperback
The Italian's Love-Child, August 2006
Miniseries: Pregnancies of Passion
Paperback (reprint)
Bought by Her Husband, August 2006
Miniseries: Bedded by Blackmail
Paperback
The Italian's Love-Child, March 2006
Paperback
The Prince's Love Child, June 2005
Paperback
Christmas Affairs, November 1999
Paperback