Juliet Marillier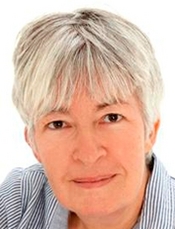 Juliet Marillier was born on July 27, 1948 in Dunedin, New Zealand. Her family (Pringle, Greer and Johnston on her mother's side, Scott and Flett on her father's side) originally came from Scotland and Ireland. Juliet grew up in Dunedin and went to school at Arthur Street Primary and Otago Girls' High School. She later attended Otago University, where she graduated with a Bachelor of Music Degree with first class honours, and a Bachelor of Arts in languages. Juliet was a Canadian Commonwealth Scholar in 1971-2, studying music at the University of Toronto.
Juliet has taught music at high school and university level in both New Zealand and Australia. She has performed as a singer in opera and other fields, and has a background in choral conducting. She joined the Australian Commonwealth public service in 1989 and worked in various government jobs for thirteen years.
Juliet's first novel, Daughter of the Forest, was completed while she was working full time in the public service, and was published in 1999 by Pan Macmillan Australia. It was well received by readers and critics, with US and UK editions and various translations being published in following years. The other two books in the Sevenwaters Trilogy, Son of the Shadows and Child of the Prophecy, were published in 2000 and 2001. The author then branched out into Norse history and folklore with Wolfskin and Foxmask. Juliet gave up her public service job to become a full time writer in 2003.
Juliet was previously married to Glyn Marillier, an academic and musician. She has four adult children and four grandchildren. She lives in Western Australia, where she shares her home with two dogs and a cat.
Juliet's novels combine historical fiction, folkloric fantasy, romance and family drama. The strong elements of history and folklore in her work reflect her lifelong interest in both fields. However, her stories focus strongly on human relationships and the personal journeys of the characters. Juliet is a member of the druid order OBOD (The Order of Bards, Ovates and Druids) and her spiritual values are often reflected in her storytelling – the human characters' relationship with the natural world plays a significant part.
As well as her books for adult readers, Juliet has written two novels for young adults and has contributed short fiction to several anthologies. She is a regular contributor to genre writing blog Writer Unboxed, where she posts on the first Thursday of the month.
Log In to see more information about Juliet Marillier
Log in or register now!
Series
Sevenwaters
Books:
A Dance with Fate, September 2020
Trade Size
Son of the Shadows, August 2020
Trade Size
Daughter of the Forest, May 2020
Trade Size
The Harp of Kings, September 2019
Warrior Bards #1
Trade Size
Den of Wolves, October 2017
Mass Market Paperback
Den of Wolves, November 2016
Blackthorn & Grim
Trade Size
Tower Of Thorns, November 2015
Hardcover
Dreamer's Pool, November 2014
Blackthorn and Grim
Hardcover
Flame Of Sevenwaters, November 2012
Sevenwaters #6
Hardcover
Seer Of Sevenwaters, December 2010
Sevenwaters #5
Hardcover
Heart's Blood, November 2009
Hardcover
The Well of Shades, December 2008
Hardcover
The Well Of Shades (Bridei Chronicles), November 2008
Mass Market Paperback
Heir To Sevenwaters, November 2008
Sevenwaters #4
Hardcover