Karen Harbaugh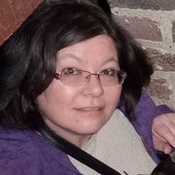 I'm a half-Japanese U.S. Northwesterner Navy brat, am (mumble, mumble) years old, have a BA in English, am happily married to a sweet and supportive engineer, and have one alarmingly intelligent son. I have found being a full-time romance writer, mom and wife to be a heck of a lot more challenging than being a Quality Assurance Analyst for a major HMO or being a technical writer. The job has longer hours, for one thing, and I'm on call a good 24 hours a day, and there is no such thing as vacation time.
I grew up along the coast of the west coast of the U.S. with a four year detour to Hawaii during my high school years (yay Radford High!). I still remember Miss Fukuji who actually managed to get me into the Math Club and Miss Harada, who introduced me to Shakespeare and had us read Chaucer's Miller's Tale in the original Middle English.
I still remember all of my teachers from kindergarten on, except for Junior High, which seems to be a complete blank, why I don't know. I suspect it has something to do with the influence of adolescent hormones on one's brain, something I am learning about as my son goes through puberty. Argh.
I eventually ended up at the University of Washington, and couldn't decide on whether to major in Psych. or English, but decided on English. Those years, were, however, some of the most delightful years of my life, and I'd go back to college in a second for more degrees if I could. I've consigned this ambition under the heading of "One Of These Days," however, along with such foreign ideas as "vacation."
Log In to see more information about Karen Harbaugh
Log in or register now!
Series
Books:
Chalice Of Roses, January 2010
Paperback
Dragon Lovers, March 2007
Trade Size
Faery Magic, September 2006
Paperback (reprint)
Dark Enchantment, December 2003
French Vampire series
Paperback
Night Fires, December 2003
French Vampires
Paperback
Playing With Matches, April 2003
Paperback