Betina Krahn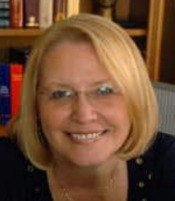 Writer... author... mother of two(sons), and owner of two(dogs!)... Betina Krahn was born in Huntington, West VA to educators Dors Maynard and Regina Maynard. Books were revered in the household. Betina learned to read at age four, entered her first art contest at age five, and began making up stories at age six. In fifth grade, she won a silver "N.O.O.B." pin (Noble Order of Bookworms) for her achievements in reading; in the sixth grade, she began to write; and in the seventh grade, she penned several screenplays for popular TV shows.
She acquired a B.S. in Education, majoring in Biological Sciences at Ohio University, and a M. Ed. in Counseling at Southwestern Oklahoma State University.
A friend gave her a copy of Kathleen Woodiwiss's historical romance, Shanna. Captured by the combination of history and romance, she was soon constructing plots and characters of her own and began pouring them out, long hand, onto yellow legal pads.
Betina's husband, Don Krahn, and her sister, Sharon Stone, encouraged her to submit her first finished manuscript for publication. Zebra Books offered her a contract for Rapture's Ransom.
After her third book, husband Don encouraged her to write full time. She signed with literary agent Ruth Cohen, joined RWA, and learned and worked and celebrated with writer friends from all over the country. In time, there came better contracts with Avon Books and then Bantam.
Success came paired with loss. Don died of cancer just six weeks after The Perfect Mistress first appeared on the New York Times Bestseller List. Intent on providing Nathan and Zeb, her two sons, a home and sense of family, over the next several years she saw her sons through college and on to law school and graduate school, respectively.
Now, again, her life is expanding in all sorts of wonderful ways... including two lovely daughters-in-law Kristine and Krista, and three grandchildren, to date, Nicholas, Michael, and Kate.
Through the ups and downs of life Betina has managed to maintain her sense of humor. For example in an award ceremony to over a thousand attending writers, she recently said ...ā€¯I finally achieved my lifelong dream of moving to Florida and owning a swimming pool. I am so delighted; I don't even mind the temporary dizziness that comes from blowing it up... It is so much better than the beach, where those Greenpeace do-gooders kept trying to push me back into the water."
It is in Florida she met Rex and fell in love for a second time. Rex is supportive, insightful, and spiritual and creative... loves cooking, movies, books, music and cars as much as she does. He is an avid reader and soulful intellect who challenges her to deepen and broaden her work.
The sunshine Betina has always craved is providing a burst of energy. A new agent, Gail Fortune of the Talbot-Fortune Agency is helping her explore new publishing options.
Betina is in the midst of completing another historical novel and tackling some long-incubated contemporary women's fiction with a hoot of a character. If that is not enough, she is also working on some non-fiction ideas for a cherished project involving 'Compassion'.
Betina is an optimist. She believes deeply in humor and love. It infuses everything she does. She is confident in the potential of her fellow humans to learn and grow and give of themselves. She believes the thing the world needs as much as it needs love... is laughter.
Log In to see more information about Betina Krahn
Log in or register now!
Series
Sin & Sensibility | Reluctant Heroes
Books:
Hero Wanted, March 2021
Reluctant Heroes #1
Mass Market Paperback / e-Book
The Girl with the Sweetest Secret, December 2018
Mass Market Paperback / e-Book
Three Nights with the Princess, October 2018
Mass Market Paperback
A Good Day to Marry a Duke, December 2017
Sin & Sensibility #1
Mass Market Paperback / e-Book
Manhunting, February 2010
Mass Market Paperback
Make Me Yours, July 2009
Mass Market Paperback
The Book of True Desires, September 2006
Paperback
The Book of the Seven Delights, June 2005
Paperback
The Enchantment, March 2005
Paperback (reprint)
Not Quite Married, August 2004
Paperback
The Marriage Test, May 2004
Paperback
The Wife Test, July 2003
Paperback
The Paradise Bargain, March 2003
Paperback (reprint)
Just Say Yes, May 2002
Paperback (reprint)
Luck Be a Lady, April 2002
Paperback (reprint)
The Husband Test, November 2001
Paperback
Sweet Talkin' Man, July 2000
Paperback
The Soft Touch, June 1999
Paperback