Catherine Asaro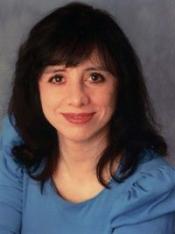 Catherine Asaro was born in Oakland, California and grew up in El Cerrito, just north of Berkeley. She received her Phd in Chemical Physics and MA in Physics, both from Harvard, and a BS with Highest Honors in Chemistry from UCLA. Among the places she has done research are the University of Toronto in Canada, the Max Planck Institut fĂĽr Astrophysik in Germany, and the Harvard-Smithsonian Center for Astrophysics. Her research involves using quantum theory to describe the behavior of atoms and molecules. Catherine was a physics professor until 1990, when she established Molecudyne Research, which she currently runs.
A former ballerina, Catherine has performed with ballets and in musicals on both coasts and in Ohio. In the 1980's she was a principal dancer and artistic director of the Mainly Jazz Dancers and the Harvard University Ballet. After she graduated, her undergraduate students took over Mainly Jazz and made it into an organization at the college. Catherine still teaches ballet in Maryland.
Catherine's fiction is a successful blend of hard science fiction, romance, and exciting space adventure. She has published nine novels, seven of which belong to her Saga of the Skolian Empire. Spherical Harmonic, the most recent novel in this series, came out in hardcover in December 2001 from Tor. Her previous novel, The Quantum Rose, won the Nebula Award for best novel of 2001 and is now available in paperback.
Catherine has also published short fiction in Analog magazine and in several anthologies, as well as reviews and nonfiction essays, and scientific papers in refereed academic journals. Her paper, "Complex Speeds and Special Relativity" in the April 1996 issue of The American Journal of Physics forms the basis for some of the science in her novels.
Catherine recently completed the next installment in the Skolian series, entitled "Moon's Shadow." It will arrive in bookstores in February 2003. Also appearing next February will be her first anthology as an editor: Irresistible Forces will feature new novellas by six top authors in the genres of science fiction, romance, and fantasy: Mary Jo Putney, Lois McMaster Bujold, Bo Beverley, Jennifer Roberson, Deb Stover, and Catherine herself.
Catherine was also recently elected vice president of Science Fiction and Fantasy Writers of America, Inc. (SFWA).
Her husband is John Kendall Cannizzo, an astrophysicist at NASA. They have one daughter, a young ballet dancer who loves math.
Log In to see more information about Catherine Asaro
Log in or register now!
Series
Books:
Diamond Star (Skolian Empire), July 2010
Paperback
Diamond Star, May 2009
Skolian Empire
Hardcover
The Night Bird, July 2008
The Lost Continent
Paperback
The Ruby Dice, January 2008
Skolian Empire
Hardcover
Alpha, December 2007
Sunrise Ally #2
Mass Market Paperback
The Fire Opal, July 2007
The Lost Continent
Trade Size
The Dawn Star, July 2006
Miniseries: Dawnfield
Paperback
The Misted Cliffs, July 2005
Trade Size
The Journey Home, January 2005
Trade Size
Schism, December 2004
Skolian Empire
Hardcover
Charmed Sphere, The, February 2004
Charmed #1
Trade Size
Irresistible Forces, February 2004
Trade Size
The Radiant Seas, November 1999
Skolian Empire
Paperback (reprint)
Primary Inversion, May 1996
Skolian Empire
Paperback (reprint)